The home that we live in houses the very dreams that we grow up with. Our home reflects who we are and who we hope to become. The walls carry the whispers of our dreams. The mirrors can see us working hard. The floors can feel us pacing back & forth when we are nervous. They all are a big part of our dreams. And we can't afford to neglect them.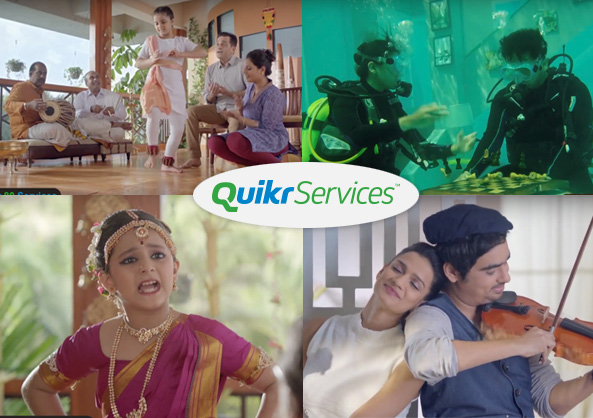 For instance, take a look at the young girl in the video narrative below. She is dancing away to glory with the aspiration of becoming a professional Bharatnatyam dancer. Suddenly, the tiles start cracking beneath her feet. Her father finds comfort in saying – "Chalta Hai Na!".
A crack (or two) in the floor shouldn't be the reason her dreams fall apart. Our aim is to make sure that you don't feel the need to say "Chalta Hai". Especially, when the alternative is simple, effective and budget-friendly. QuikrServices brings you a wide variety of household service experts to choose from. They will identify the problem, estimate the cost, and get the job done.
Comfort is the bedrock of the life that we want for ourselves and our loved ones. Playing chess on a lazy afternoon, a couple is faced with a dripping ceiling. The boyfriend casually remarks – "Chalta hai baby!". One can deal with it, sure. But should one have to deal with it? The cost of comfort isn't too high. Our service experts will be happy to give you an estimate which will snugly fit in with your budget. Don't let "Chalta Hai!" steer the course of your life. Otherwise you are headed for a pretty unsettling journey ahead.
In another story right here, a romantic couple is interrupted by termites who've polished off their musical instruments for supper. The evening pretty much goes down the drain when the girlfriend sternly remarks, "Ab Chalta Hai Nahi Chalega!".
"Chalta Hai" is an attitude. A state of mind. A plague of sorts. We need to rid our life of it for a better tomorrow. QuikrServices aims to do just that.
QuikrServices is the one stop shop for all your household service needs. From flooring to pest control to plumbing and a lot more, we provide services spanning across 50+ categories in over a thousand cities in India. Everyday, over 50,000 people use QuikrServices to find the right service expert and get the job done. What about you? Head over to QuikrServices now and give your home the care it deserves.
Download Quikr App for Android, Windows and iOS devices here.