It is a long journey to tie the thread of vision through ideas and objectivity. But we continue to strive, nonetheless. We are inspired by the lives we hope to change. Rather, we are inspired by the change that you can bring in your life. As we always say, "Aasaan Hai Badalna". With Quikr by your side, you can make that change happen with ease. With Quikr by your side, you can make your dreams come true.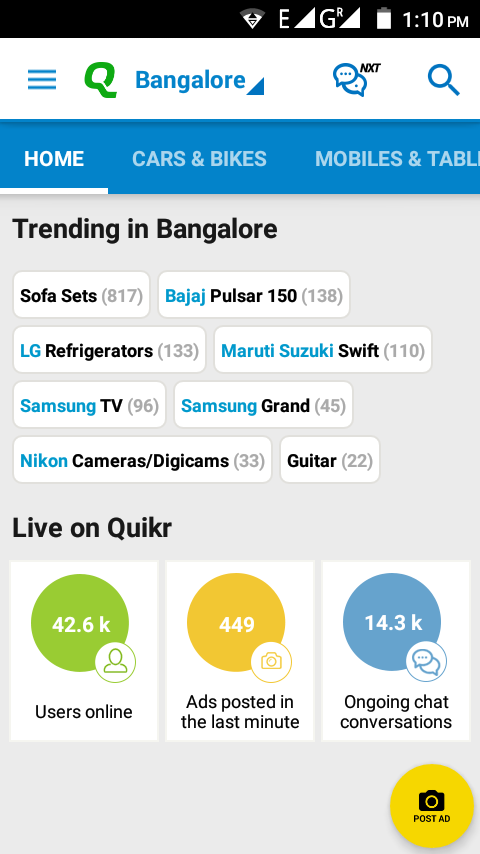 There are hundreds, even thousands of items on sale which might engage your interest. Gadgets. Automobiles. Clothes. Accessories. The list is rather endless. Wondering which items are shaping the current trend? Which microwave is selling like hot cakes? Which mobile phone is creating a buzz? We aim to empower you with answers to all these questions (and more). All you need to do is visit Quikr and check out what's trending in your city. Pronto.
"Trending In Your City" is easily accessible on the homepage of the Quikr App. It'll enable you to view the most popular items, filtered by location. Not just that, we even share the number of ads each item has. The top 10 products will help you understand what are the most sought after items in any city. What is it that makes people tick. Whether you are a buyer or a seller, this information is more than valuable to you.
Want to buy or sell something? Don't sweat it! If it is on the top 10 list in your city, you can buy or sell that item faster than you could imagine. Try it out. You never know what you might find.
Interested in discovering? Do check it out and tell us what you think in the comments below.
Download Quikr App for Android, Windows and iOS devices here.