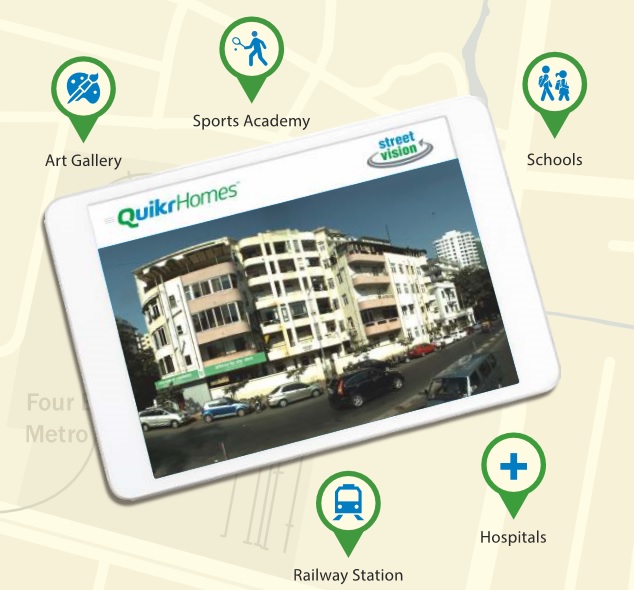 It is easy enough to get caught up in the interiors of a house that we're planning to buy or rent. It's high time we change that habit and look at the outside too. We do understand that at some point this change is inevitable. More importantly though, we've made it easy with QuikrHomes.
Yes, changing homes is easy
We've uncomplicated the process of home buying or renting – presumably one of the most daunting tasks of the contemporary world. Here's how. QuikrHomes, our all-inclusive real estate marketplace for builders, brokers and home seekers helps you find a home not just by mere location – but by allowing you to preview the entire living experience in and around that space.
Often, we come across real estate listings which share a larger than life description of the surrounding area. And then there are those times, when reality is just a fraction of this grandiose description. For instance – a sea facing view might just be a tiny stream of blue between two buildings obstructing your view. A parking lot might actually just be a vacant unsupervised plot of land. A 15 minute walk to the main road will in truth, require a sprint to make it in that time.
QuikrHomes Street Vision for a look down the road
For the first time in India, Street Vision gives you a 360 degree view of properties and their surroundings in 60+ cities, spanning 2.5 lakh kms. This means you can see every little detail and then decide on a home that's perfect for you with QuikrHomes.
We have imaged and georeferenced more than 5 million points of interest across major cities of India. What does this translate into for you? You will get a complete and immersive experience along with a unique walkthrough of the area surrounding your potential home. With the largest real estate database in the country including neighbourhood hyperlocal information, we've covered over 70% of all urban spaces to help you make the right choice for a home.
Ok, so you know what the street looks like. Great. But do you know if there's a school nearby?
Facilities Mapping to the rescue
Gone are the days when you would have to drive around to find the closest shop, hospital or school. For the tech-savvy who prefer online searches, we have stepped up our game. We'll help you get all this information without ever having to browse multiple apps. Our Facilities Mapping Feature, will give you a full list of amenities and services nearby. We have mapped over 3000+ hospitals, 5000+ schools, gyms and ATMs – in sum, we hope to revolutionize how you find your perfect home, with the help of QuikrHomes.
Changing homes is easier than you think. Don't let anybody tell you otherwise.
Download Quikr App for Android, Windows and iOS devices here