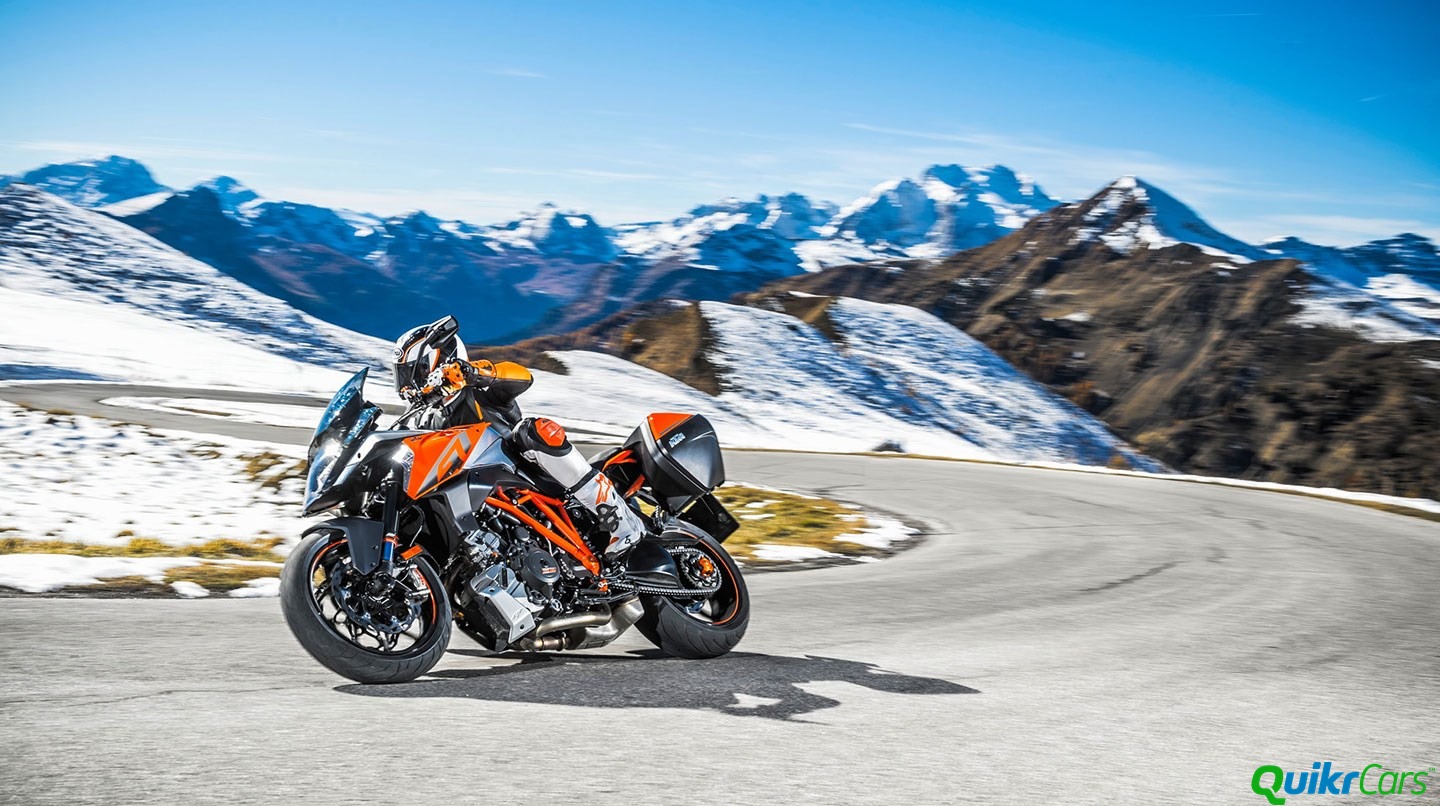 Austrian manufacturer KTM unveiled the 2016 KTM Super Duke GT officially at this year's EICMA in Milan. The new sports-tourer from KTM is closely based on the beastly 1290 Super Duke R street fighter.
Keeping with the aggressive styling of the Super Duke R, KTM have designed the sports-tourer 1290 Super Duke GT with aggressive styling but with a bigger tank, a full-fledged fairing and a large windscreen. KTM say that they have achieved an amazing balance between comfortable touring and sporty performance.
The KTM 1290 Super Duke GT is powered by a re-tuned version of the 1,301 cc two-cylinder V-twin engine from the Super Duke R. Though it develops the same output performance figures of 173 hp maximum power and 143 Nm of torque as the Super Duke R, KTM say that they have significantly re-worked the engine.
KTM have played around with the crankshaft, cylinder heads, combustion chambers, valve timings and fuel injection mappings for a sports-tourer appropriate power delivery. As a result, the engine on the 1290 Super Duke GT develops peak torque at 1,000 rpm lower and the maximum power comes at a slightly higher rpm than the Super Duke R.
The suspension of the Super Duke GT features a semi-active WP suspension at both front and rear which can be toggled between three modes: Comfort, Street and Sport settings. The suspension control unit works in real-time to match the damping values according to the riding style and road surface condition.
The KTM 1290 Super Duke GT comes with a wide range of electronics technology. It gets the riding assistance package from the 1290 Super Adventure along with Bosch MSC "Cornering ABS" system and traction control. The ABS system can also be disengaged and features a Supermoto mode as well. Other interesting features include quick shifter, cruise control, LED cornering lights, self-cancelling indicators, tire pressure monitoring, hill hold control (HHC) and motor slip regulation (MSR).
The Super Duke GT is designed for eating up kilometres with a huge 23 litre fuel tank and a dry weight of just 205 kg. It features an extended sub-frame complete with mounts for panniers, adjustable handlebars, lower foot pegs and heated grips. All of which, make long distance touring on the 1290 Super Duke GT as pleasurable and comfortable as possible. KTM also claims that the new sports-tourer has the best-in-class power to weight ratio in the market.
We will have to wait a bit longer to get the pricing details and know the markets in which the KTM 1290 Super Duke GT will be launched.