Montoya wins Indy 500 after 15 years.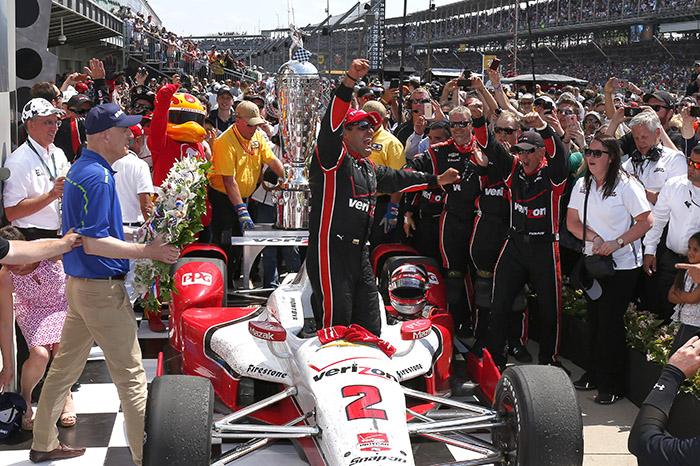 Juan Pablo Montoya won the Indianapolis 500 after an epic race-long battle between IndyCar powerhouses Penske and Ganassi marking his first Indy 500 win in 15 years.
The two Chevrolet teams had taken the top seven positions for much of the race, but in the closing stages the battle for the win had been narrowed down to a four-way fight between Montoya, Will Power (both Penske), Scott Dixon and Charlie Kimball (both Ganassi).
The Penskes managed to open a small gap over their Ganassi counterparts in the closing laps, and with three to go Montoya dived past Power on the outside to take the lead into Turn 1.
That should have left him susceptible to a counter-attack from the Australian, but he was able to keep his team-mate at bay all the way to the end.
The win comes 15 years after Montoya's last Indy 500 victory, and he certainly had to work a lot harder for it: early on, he was running last after he was hit from behind by Simona de Silvestro under yellows and needed to pit for a new rear wing assembly.
He then lost additional time when he overshot his markers during his second fuel stop.
A ensuing caution allowed him to regain a lot of the gap and move back within range of the leaders.
"That was fun," he said. "I knew I had a good car when I came through the field.
"But the fight at the end was hard. It's awesome. I'm looking for the words; it's too much."
Power ended the day with his career-best finish at Indy, but was more focused on how easily the win could have been his.
"Maybe I was a bit nice to Montoya into Turn 1, I lifted," he said.
"I got really close and then I washed out and had to lift.
"That was some serious racing there, a lot of fun. Credit to the team, finishing 1-2.
"Just too much push there. Congrats to Juan, he was strong all day. It sucks finishing second; it's the Indy 500."
Kimball managed to pass Dixon in the closing laps to secure third, leaving the Kiwi – who led a race-high 83 laps – to settle for fourth.
"We had a good restart; was just trying to pace it," Dixon said. "When I really needed to go I just couldn't turn the car.
"As the laps were counting down I was trying to make something happen, but the front wouldn't hang on. Congrats to Juan, he drove a hell of a race."
Tony Kanaan could have been in the fray as well, but he was eliminated from the race when he was caught out by an aero adjustment and spun into the Turn 3 wall at around three-quarter distance.
The Brazilian's mishap was just one in a day filled with incidents.
The most serious came late in the race when Jack Hawksworth spun into Sebastian Saavedra, putting both cars into the wall and also leaving Stefano Coletti with nowhere to go but into Saavedra's car.
Saavedra was taken to a nearby hospital for further assessment of a contusion to his foot, but Hawksworth and Coletti were uninjured.
The other major incident occurred in pitlane, and involved all three of the Dale Coyne Racing cars.
James Davison's car was released into the path of Pippa Mann, and the resultant contact bounced Davison into the pit box ahead, where Tristan Vautier's car was receiving service.
Two of Vautier's crew were hit, with one being checked at the infield medical centre and cleared, and the other taken to hospital with ankle injuries.
INDY 500 RESULT
| | | | | | |
| --- | --- | --- | --- | --- | --- |
| Pos | Driver | Team | Car | Laps | Gap |
| 1 | Juan Pablo Montoya | Team Penske | Dallara/Chevrolet | 200 | 3h05m56.5286s |
| 2 | Will Power | Team Penske | Dallara/Chevrolet | 200 | 0.1046s |
| 3 | Charlie Kimball | Chip Ganassi Racing | Dallara/Chevrolet | 200 | 0.7950s |
| 4 | Scott Dixon | Chip Ganassi Racing | Dallara/Chevrolet | 200 | 1.0292s |
| 5 | Graham Rahal | Rahal Letterman Lanigan | Dallara/Honda | 200 | 2.3122s |
| 6 | Marco Andretti | Andretti Autosport | Dallara/Honda | 200 | 2.5388s |
| 7 | Helio Castroneves | Team Penske | Dallara/Chevrolet | 200 | 2.7821s |
| 8 | J.R. Hildebrand | CFH Racing | Dallara/Chevrolet | 200 | 3.5631s |
| 9 | Josef Newgarden | CFH Racing | Dallara/Chevrolet | 200 | 4.0281s |
| 10 | Simon Pagenaud | Team Penske | Dallara/Chevrolet | 200 | 4.2148s |
| 11 | Sebastien Bourdais | KVSH Racing | Dallara/Chevrolet | 200 | 5.3067s |
| 12 | Ryan Briscoe | Schmidt Peterson Motorsports | Dallara/Honda | 200 | 5.6687s |
| 13 | Takuma Sato | AJ Foyt Enterprises | Dallara/Honda | 200 | 6.1678s |
| 14 | Townsend Bell | Dreyer and Reinbold | Dallara/Chevrolet | 200 | 8.5005s |
| 15 | Ryan Hunter-Reay | Andretti Autosport | Dallara/Honda | 200 | 9.6481s |
| 16 | Gabby Chaves | Bryan Herta Autosport | Dallara/Honda | 200 | 10.1016s |
| 17 | Alex Tagliani | AJ Foyt Enterprises | Dallara/Honda | 200 | 11.2151s |
| 18 | James Jakes | Schmidt Peterson Motorsports | Dallara/Honda | 200 | 12.0431s |
| 19 | Simona de Silvestro | Andretti Autosport | Dallara/Honda | 200 | 12.7328s |
| 20 | Carlos Munoz | Andretti Autosport | Dallara/Honda | 200 | 39.8346s |
| 21 | Justin Wilson | Andretti Autosport | Dallara/Honda | 199 | 1 Lap |
| 22 | Pippa Mann | Dale Coyne Racing | Dallara/Honda | 197 | 3 Laps |
| 23 | Sebastian Saavedra | Chip Ganassi Racing | Dallara/Chevrolet | 175 | Contact |
| 24 | Jack Hawksworth | AJ Foyt Enterprises | Dallara/Honda | 175 | Contact |
| 25 | Stefano Coletti | KV Racing Technology | Dallara/Chevrolet | 175 | Contact |
| 26 | Tony Kanaan | Chip Ganassi Racing | Dallara/Chevrolet | 151 | Contact |
| 27 | James Davison | Dale Coyne Racing | Dallara/Honda | 116 | Mechanical |
| 28 | Tristan Vautier | Dale Coyne Racing | Dallara/Honda | 116 | Mechanical |
| 29 | Oriol Servia | Rahal Letterman Lanigan | Dallara/Honda | 112 | Contact |
| 30 | Ed Carpenter | CFH Racing | Dallara/Chevrolet | 112 | Contact |
| 31 | Bryan Clauson | KVSH Racing | Dallara/Chevrolet | 61 | Contact |
| 32 | Sage Karam | Chip Ganassi Racing | Dallara/Chevrolet | 0 | Contact |
| 33 | Conor Daly | Schmidt Peterson Motorsports | Dallara/Honda | 0 | Mechanical |
LEADING DRIVERS' STANDINGS
| | | |
| --- | --- | --- |
| Pos | Driver | Points |
| 1 | Juan Pablo Montoya | 272 |
| 2 | Will Power | 247 |
| 3 | Scott Dixon | 211 |
| 4 | Helio Castroneves | 206 |
| 5 | Graham Rahal | 204 |
| 6 | Josef Newgarden | 173 |
| 7 | Sebastien Bourdais | 161 |
| 8 | Charlie Kimball | 160 |
| 9 | Marco Andretti | 151 |
| 10 | Tony Kanaan | 147 |
| 11 | Simon Pagenaud | 142 |
| 12 | Ryan Hunter-Reay | 130 |
| 13 | James Hinchcliffe | 129 |
| 14 | Carlos Munoz | 122 |
| 15 | Takuma Sato | 106 |
| 16 | James Jakes | 99 |
| 17 | Gabby Chaves | 99 |
| 18 | Luca Filippi | 85 |
| 19 | Jack Hawksworth | 76 |
| 20 | Stefano Coletti | 75 |
Source Autocar India