World Environment Day 2020
With the alarming number of environmental crises all across the globe, it becomes our primary responsibility as individuals and as a company to make a difference in helping save the environment. Having pledged to take measures that encourage awareness towards eco-friendly purchase decisions and practices that foster care for our environment, Quikr recently collaborated with Centre for Environment Education (CEE) to analyze and measure the environmental impact of re-used products. The core idea was to study and measure quantifiable results towards carbon footprint reduction on an individual level when customers choose reused products. While this not only helps decrease waste going into landfills, refurbishing products increase their lifecycle and also significantly cuts down the impact of the supply chain on the environment, all while giving customers a better value for their money.
Over the last few years, Quikr, with its strong online platform and 50+ offline retail stores, is enabling this trend. With a wide range of unboxed and refurbished products, the amount of water saved per year along with saved trees or carbon emissions for these products sold on Quikr is a total of 204 million kg of carbon emissions or 10 million trees. Along with this, Quikr is also saving 5 billion liters of water annually.
This World Environment Day 2020, in an effort to appreciate choices made by our customers to make sustainable decisions and help the environment, we gifted them a green surprise – a lucky bamboo plant as a gift that grows and brings luck and nature into their homes. After all, we are as much in the business of spreading happiness as we are in the business of giving back to the environment and giving value-for-money to our customers. This collage of some of our happy customers with their plants is such a delight!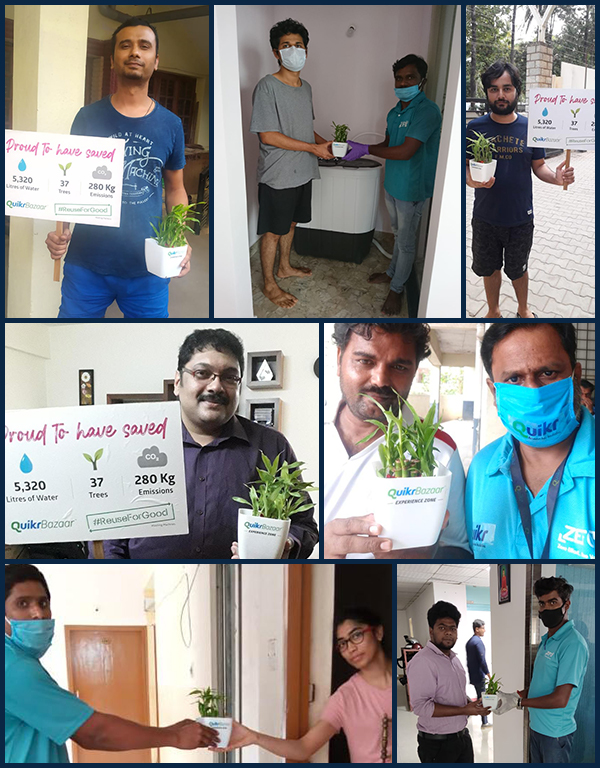 You can read more about how every time you purchase a TV from Quikr, you save 30,000 liters of water or every time you buy a bed from us, you reduce the carbon emissions by 95 KG here – ReuseForGood With Quikr