Scanning the internet for information on the top countries to pursue higher studies? Scared whether your chosen destination will turn out to be amiable or not? QuikrLearner asked a group of students about their preferred country for higher studies and the results were quite in-line with the present socio-political scenario.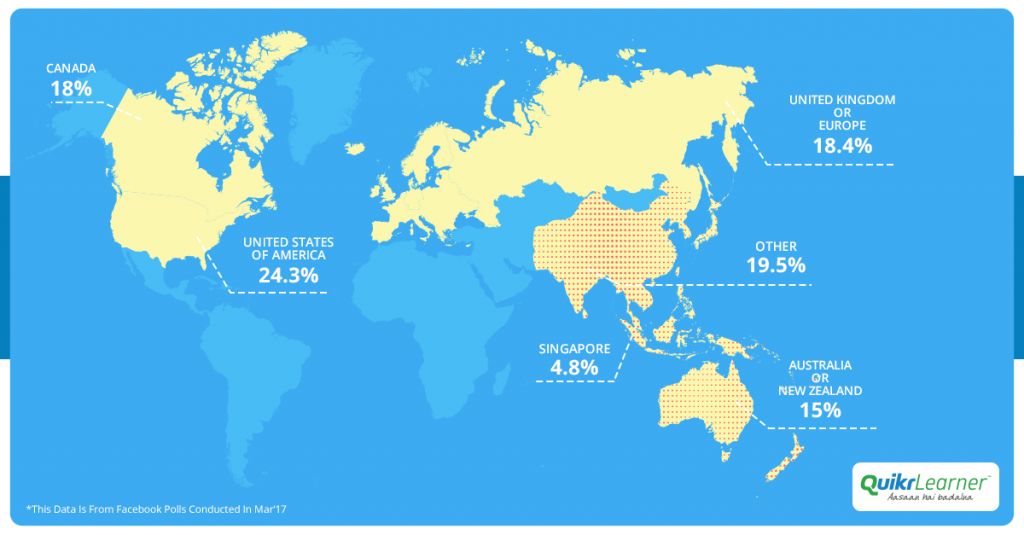 With Trump coming into power and the job sector getting restrained, the US still remains the number one choice with 24.3% Indian students preferring the country for higher studies. The top reasons cited by students who prefer US is the unbeatable quality of education and the thriving job market for almost all fields. While the above two were the main positive reasons, higher education cost in the US was the gravest concern students had. However, the higher costs in the US are easily nullified by the abundant job opportunities that are striking feature of the country.
If you're more inclined towards Europe than the US, then you aren't alone. A good 18.4% and 18% of students chose UK and Canada respectively, in contrast to the US. Visa issues in the new Trump-led USA is the main reason why students chose UK as their destination for higher education. Canada is considered safer with more openness to foreign students and a welcoming immigration policy.
Australia is not just famous for its green landscapes and exuberant wildlife, the country fared third in the preference list with 15% students choosing these destinations. A variety of reasons came up in the survey from students who chose Australia or New Zealand, the biggest being Trump leadership in the US and influx of refugees in Europe. Job availability, affordable cost of living, and work visa after graduation were some of the other major reasons.
Another favoured destination that has come up in the last few years is Singapore, with 4.8% students wanting to study there. The country is booming in terms of good education courses. However, finding a job in the country isn't as easy as maybe in the US or Australia.
With the above listed survey results, it's easy to understand some of the most prominent factors that play a role in deciding the place of higher education. You can now streamline your choice of university with the current trending student preferences and make an informed decision for a bright career ahead.