Look at your phone. Don't you feel a little something called unconditional love? An overwhelming sense of affection? Doesn't it make your heart beat faster? Ah, the wonders of your inbuilt selfie camera. Or the numerous apps that make your everyday life exciting. And don't you forget the *alarming* melody that wakes you up in time to begin your day. The first thing you hold close when you are groggy-eyed in the morning. The last thing you set your sights on before you doze off. Your eternal Valentine. Your true love. Your smartphone!
What if we could bring you closer to that someone special? Let's find you the smartphone of your dreams. It's time to get together with your True Valentine.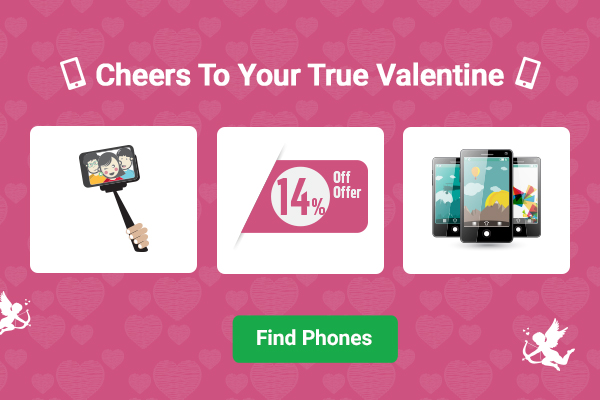 At Quikr, you get the power to choose! Choose from the latest smartphones that come with a variety of amazing perks. (And just so you know, they could totally make your day special.)
Here's what's in it for you –
1. Choices To Make Your Heart Go 'Oooh!'
You get to choose from a wide variety of pre-owned phones that come with the Quikr stamp of approval. We have thoroughly verified these phones on our 35 point inspection checklist.

2. The Number 14 Will Make Your Heart Race
We are offering a FLAT 14% off on each and every Quikr-certified phone. Yep, that's right. Go ahead, let your jaw drop.

3. Capture Every Magical Moment
This Valentine's Day, celebrate togetherness by creating beautiful memories that you can cherish forever! And we can only hope that a FREE selfie stick will help you capture precious moments that you can treasure and relish for many years to come.

4. A Promise Of Quality That'll Last Long
Enjoy latest smartphones at unbelievably affordable prices – without any compromise on quality! That's the best part, really. Affordable products may sound tempting – but you should always keep an eye on quality standards. At Quikr, we assure you of quality that'll last long – and a warranty to earn your trust.
Well, the Quikr Cupid has struck! Let's make this special season count then, shall we?