What's the first thing that you think of when you hear the word "Christmas"? Apart from a soul-call for Santa, cookies & eggnog, stockings full of presents come to mind. Well, you are in luck! As a Quikr customer, you have the chance to win the gift of a lifetime – the smartphone of your dreams.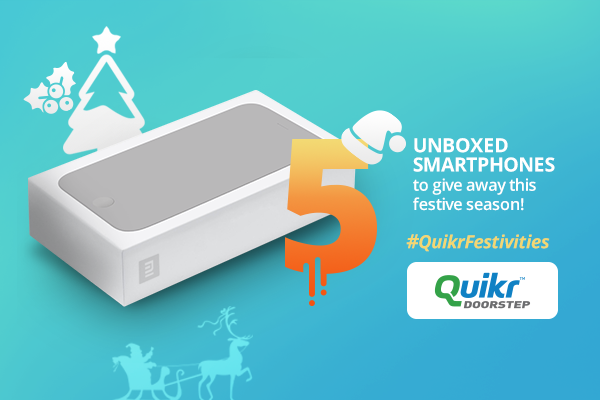 With QuikrDoorstep, we are launching a contest to make your festive season a little more than special. We are running this contest for customers who'll successfully complete a transaction via Doorstep Logistics & Payment Services. Want to participate, don't you? Go on, give in to the temptation! So here's how it works –
From mobiles to furniture to appliances, you can choose any one item from the wide variety of affordable products* available on Quikr – and make a smart purchase.
Click a picture of the item you bought and share it with us on Facebook, Twitter or Instagram. Don't forget to add your Order ID along with.
We would love to hear a short and sweet message about how Quikr Doorstep made your festive season wonderful. (like a warm cup of cocoa to enjoy by the fireside…yum!)
We don't want to miss your Christmas greeting! And that's why you must tag @Quikr and use #QuikrFestivities. We'll know it's you.
You must share your entries before 31st December, 2016. And just so you know, we're eagerly looking forward to your love notes!
We'll then announce the results before 7th January 2017. 5 lucky winners will get an Unboxed Redmi Note 3 each. Innovation like this is simply too tempting to resist. Period.
Don't forget to avail of our secure online payment and dependable logistics to qualify for the contest!
Well, are you still waiting for us to bring you onboard the celebrations? Well, wait no more. Cut yourself a slice of that goddamn plum cake, enjoy some mulled wine and explore amazing products with us.
Because guess what? 'Tis the season to be jolly with Quikr!
——-
*You must purchase an item from one of the categories listed below –
Mobiles & Tablets
Electronics & Appliances
Home & Lifestyle
Office Furniture