Graduate Aptitude Test in Engineering, commonly known as GATE, is an exam taken by engineers in order to pursue their higher studies in institutes in India or to work in one of the PSUs (Public Sector Undertaking). The exam tests their knowledge in their respective undergraduate subjects in engineering and science. It is basically conducted by the IISc (Indian Institute of Science, Bengaluru) and seven IITs (Indian Institute of Technology) – IIT-Delhi, IIT-Bombay, IIT-Kanpur, IIT-Madras, IIT-Guwahati, IIT-Kharagpur, and IIT-Roorkee. They jointly conduct this examination on behalf of the Department of higher education, MHRD (Ministry of Human Resources Development). It is one of the most competitive examinations in India.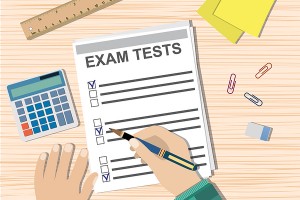 In 2016, close to 9,70,700 students wrote GATE across various streams. Mechanical Engineering saw the highest number of students writing the exam at 2,34,727 candidates. A valid GATE score will also help you obtain financial assistance from the government when pursuing your master's program. There are various GATE coaching classes available these days.
Eligibility for GATE 2017 Exam
You can apply for GATE 2017 if you are currently pursuing your Bachelor of Engineering (B.E.) or Bachelor of Technology (B.Tech) or Bachelor of Pharmacy (B.Pharm) and will complete your course in 2017.
As architecture students, you can apply if you're in the 5th year of your course or if you are completing the course in 2017. The criteria are similar for the candidates who are pursuing their bachelor degree in Science.
For candidates who are pursuing their Master's degree in any branch of mathematics, computer applications or science can also apply if you're in your final year of your course and will complete it in 2017.
For candidates who are pursuing their integrated Master's degree or a dual degree in technology or engineering can apply for GATE 2017 if they are completing their course in 2018.
If you're pursuing your Post-BSc Integrated Master's degree program in engineering or technology, you can apply if you're currently in your 2nd or 3rd or 4th year of education and will complete the course not later than 2019.
Candidates who are pursuing their M.Sc. or a five-year integrated B.S./M.S. program can apply for GATE 2017 if they are in their final year or have already completed the course.
For candidates who have pursued Professional Society Examination which is equivalent to the B.E., B.Arch or B.Tech courses can also apply for GATE 2017. The year in which they have completed the course is not considered.
GATE 2017 Important Dates
GATE 2017 Exam Date
February 4-5, 2017 and February 11-12, 2017. The examinations will be held on Saturdays and Sundays only.
GATE 2017 Application and Registration Last Date
The registration process started on 1st September 2016 and the GATE application form last date was 4th October 2016.
The last date allotted to change the choice of examination city was 16th November 2016.
The admit card will be available for all students on the online application interface on 5th January 2017.
Students need a printout of the admit card while appearing for the test at the examination centre.
GATE 2017 Result Date
The GATE result date is 27th March 2017. It will be available on the online application website. The exams will be held in two slots. The Forenoon slot will be from 9 am to 12 pm. The Afternoon slot will be from 2 pm to 5 pm.