Studying abroad is an expensive affair, no doubt. You've probably taken a huge loan to pursue your dream of an education overseas . Additionally, your parents would have made quite a contribution for your comfortable stay in the US. Or, you've probably worked quite hard to save up in order to study at (say) one of the top US universities.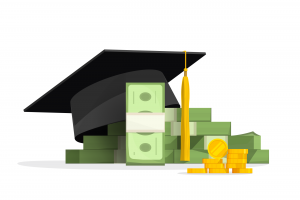 Whatever the reason, you need to watch your budget in the States to make your educational venture worthwhile. So if you want to have a great academic stint at your university, and not miss out on a fancy social life either, here are five essential areas you need to watch out for!
1. Primary Sustenance: Food
The most basic essential, food tops your budget plan. Spending on food is an inevitable expense, and staying in a foreign country gives you several opportunities to try various cuisines. Here's what you can do to cut down unnecessary expenses when it comes to food.
Be Your Own Master Chef: That's probably taking it a little too far, but you could whip up a 3-course meal right in your kitchen, thanks to YouTube videos and online recipes for rookies. You can even try your hand at cooking some ghar ka khaana that you miss so much.
It's McD To The Rescue: If you do feel like eating out, look for fast food joints. Not only do you get to try the authentic burgers and pizzas that are nothing like the ones you get back home, but they also are pocket-friendly. These eateries offer great deals on meals that can fill your tummy.
Convenient Food: Make sure you stock your home with microwave-ready package food. Whether it's oats or even a bowl of Mac and Cheese, you can cook your meal in just a few minutes—a great choice for those long tiring days.
Try to limit the number of times you eat outside. In situations where you can't avoid going out, look for deals on your meals. You can always request a takeaway container if the meal is too big. The extra serving can be your next meal of the day.
2. Local Banks: Your First Friend In The States!
It's the first time you're incurring expenses in a new country, and in the long run, it can add up to quite a big sum. Start with the simple step of tracking exchange rates and the currency-conversion fee. After thorough research, find a local bank that offers a good rate of interest, and has a convenient number of ATMs in your locality. Also make sure you use local credit and debit cards, and keep a check on your expenses.
Another simple measure to avoid additional expenses is withdrawing larger amounts of money each time you hit the ATM. You can cut down on the processing fee and save quite a bit in the long run.
3. Be Your Own Laundry Man
Laundry might not even appear to be a large expense to you, but think about how often you'll be doing it, and whether or not you can go without washing your clothes. Here's what you can do to reduce laundry charges.
Don't wash your clothes after just one use, unless of course they're dirty or smelly. Opt for powder detergents as they cost less, and don't go overboard with its usage. Make sure you wash full loads as much as possible, and keep the washing cycles short, unless absolutely necessary. Look for alternatives available around the house instead of buying fabric softeners or whiteners, or even stain removers.
Hand-washing is a great way to do your laundry too. Think of all the pretty and delicate clothes ruined by the washing machine, that you could have saved with a gentle hand-wash.
4. Exploring The Country
Once you're in a new city or country, it's almost impossible to keep yourself from exploring the neighboring centers of attraction. With the US boasting several marvels of the world, you can't say no to sightseeing!
Pick a time of the year that is less convenient to everyone else; off-season or even weekday ticket prices are always cheaper! Ensure you book cheap flight tickets and stay in hostels rather than those fancy but expensive hotels. Use your international student identity card for additional discounts. Curb those impulsive souvenir buys—let's face it, you know you're going to regret buying it later. Plan a travel budget with online budget tools and make sure you stick to it. Ride bicycles, fly low cost airlines, choose train over plane, and take the metro (subway) instead of a cab as you move between places! Bus service in the US is very different from what it is here. Chances are that you'll love it!
5. Other Expenses
Besides these major expenses, you'll also encounter some less-important expenditure that cannot be avoided.  For instance, you'll need textbooks and other study material for your course. You can save by buying used books. If you're keen on concerts, movies, or field trips, you can look for discounts that you're entitled to as a student, or even on-campus activities that support these events.
You can find counselling services that will guide you through expenses that include accommodation and travel expenses that'll help you avoid overspending.
Plan out your budget well and make room for all the fun that you had in mind while studying in America, as you explore the culture, cuisine, and country. No room for empty wallets and dipping bank balances there!