Moving to the USA for an education can be an expensive affair. Having a job goes a long way in paying your bills and leading a quality lifestyle. There are a few opportunities for students like you, but you have to follow some rules and protocols to be employed.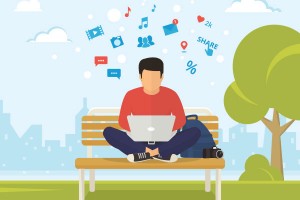 Whether or not you are eligible to apply for a job will be decided by the visa you're holding. Here is a list of different visa types, and what each of them means for an Indian student job seeker.
F-1 Visa
This is the type of visa held by a majority of the Indian students in US universities. It's applicable for those who are not shifting to the USA permanently.
If you hold an F-1 visa, you can't take up any off-campus employment during the first year of your course.
Regarding on-campus employment, the following are applicable:
You can work directly for your university, on its premises; that includes work affiliated to a grant or assistant-ship.
You can work for a commercial firm that provides services for students on campus, like the cafeteria or the bookstore.
You can work with an educational body that is directly affiliated with the university; you can work as a research assistant under a professor, for example.
However, you have to get permission from the International Student Office. You can work up-to a limit of 20 hours while the session is going on.
Another thing to keep in mind is to maintain your F-1 status. Else, you won't be able to continue working on-campus.
In special cases, the US Citizenship and Immigration Services (USCIS) might let you work off-campus during the first year, if you're facing any financial troubles. You have to prove that you were not able to find work on campus, and apply for a work permit. A fee of $380 is applicable, and it can take up-to 3 months to process.
After a year of studying, you can apply for an off-campus job like assistant jobs in catering services, offices, laboratories, and libraries. The following are some of the options to work for:
Curricular Practical Training (CPT) program will provide employment, according to your study program's curriculum. You can undertake practical work directly related to your field or internships necessary for graduation.
Optional Practical training (OPT) is for getting employment in a field that is related to the degree that you're studying. You can work for up to 20 hours per week during semester sessions, and 40 hours per week during the holidays.
If you're pursuing a course in science, technology, engineering, or mathematics, then you can take training upto a length of 17 months. In other cases, the time limit is 1 year.
You can work with approved international organizations that follow specific rules within the US.
M-1 Visa
If you're pursuing a vocational course in the US, you will require an M-1 Visa. You can take one month of optional practical training (OPT) for every four months of study.
J-1 Visa
If you're an exchange visitor student in any one of the US universities, you will have to posses a J-1 Visa.
You can work up to 20 hours during semester sessions, and full-time during holidays, if you have a good academic record.
However, you can only work on campus, unless it's a special case. You may take up assistant jobs (like research assistant to a professor) within the campus.
So, according to your course of study, different rules of assistant ship employment are applicable to you.