Every year, thousands of students travel to the US to pursue postgraduate courses in various fields and also to gain unparalleled cultural, academic, and social experiences. Their success stories reach the Indian shore and aspire future generations to follow the same path.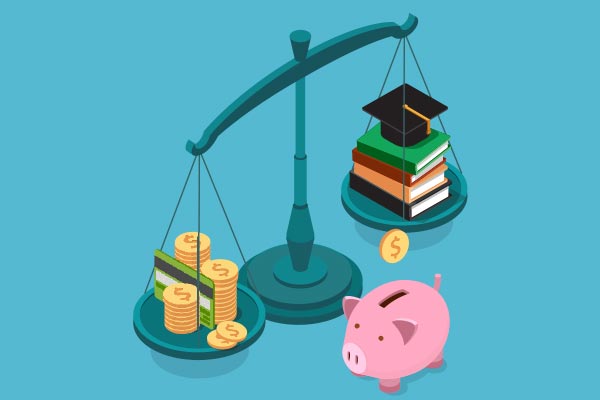 The two biggest impediments to this aspiration of studying in the USA are high tuition fees and cost of living in the country. Backed by education loans, Indian students across various American universities face a constant challenge of struggling to make ends meet while trying to achieve academic goals. If you are someone who is planning to travel to the US for higher education, here are a few ways which will help you stay financially stable:
Accommodation
Off-campus accommodation can be a potential money saver for international students studying in the USA. However, be sure to compare costs of transportation, utilities, set-up (deposit) and other out-of-pocket expenses before you make a decision. Shared accommodation reduces rental costs while you can also save money by opting out of university meal plans and cooking your own food.
Do not jump into an off-campus housing arrangement before checking the room or apartment thoroughly. Make sure there are no existing property damages to avoid any fines when you vacate.
On-Campus Food Expense
If you've opted for an on-campus accommodation, review the available meal plans, carefully. Inquire about the various menu options and choose a meal plan that suits your dietary habits the best while being easy on your pocket. Plan your yearly food expense keeping in mind the bi-annual semester breaks.
Discounted Flight Tickets
Cost of travel to and from university location may seem hefty enough to eat into half your savings. Opt for an airline that offers discounted flight tickets for students studying abroad. A thorough research from your side clubbed with a good travel agent can help you grab a pretty lucrative deal.
Generally, flights that offer student discounts also include luggage benefit, which means you are allowed to carry more luggage weight than other regular passengers.
Broker for Money-Transfer
Transferring money through bank may prove expensive in the long run owing to different foreign exchange rates and service charges. Find a specialized money broker who can help you get a higher value for your rupee.
The Barter System
Once you're done using them, don't let your expensive books and other college material gather dust. Barter the things you don't use anymore for other stuff that you might need – you can barter used textbooks for a tennis racket or maybe, exchange a piece of inutile furniture for new textbooks.
Part-time Earning Opportunities
1. On-Campus: Some universities offer on-campus employment for international students. Such jobs can help you earn a few extra bucks which can be used towards your daily miscellaneous expenses.
2. Off-campus: Part-time, off-campus jobs open an array of earning opportunities for international scholars; however, these also come with certain statutory conditions. Make sure to check what kind of work suits you the best in terms of total weekly working hours allowed on student visa.
3. Student Job Portals: There are many websites that list part-time employment opportunities; you can browse through these portals to choose an earning opportunity that matches well with your time and money requirements.
4. Freelancing/Previous Employer: Freelancing is another great way to earn money by using your skills from the comfort of your home. You can get in touch with your ex-employer too, and leverage your professional skills towards any relevant part-time job opportunity. If creating something is your strong point , websites like Etsy, allow you to sell your work. This includes handmade home décor items, hand-painted t-shirts etc. This is a fun way to earn a few extra dollars as well as cultivate a rewarding hobby.
Tip: Be sure not to jeopardize your academic interest in order to earn a few extra dollars. Take up a part-time job only when you are sure you can juggle easily between work and academics without comprising either.
Sell and earn
Websites like eBay allow you to sell products that you don't need anymore. For example, furniture items when you shift apartments and old electronic items that you no longer need. Earn a few extra bucks and create more living space by selling things that you no longer need. These include things like old phone handsets, unused pieces of furniture, old coffee machines etc.
As an international student, be prudent with your money and make optimum use of available options to ensure a memorable and rich academic period.