We are constantly looking for a great deal on the phone we desire, and there are times when it is just beyond the budget. Rather than settle for a cheaper model or brand, you can now get the phone you want and enjoy the same experience at a lesser cost. Unboxed phones offer a great opportunity to invest in the latest technology while going easy on your pocket. These are new phones that have been returned to the seller for various reasons and are sold with the unboxed disclaimer. Here are 5 reasons why an unboxed phone is a very wise purchase:
1. The Phones Are Double Tested
The main reasons phones get returned range from color or specification mismatches while shipping (minor issues which can be easily addressed) to buyers who change their mind after receipt of a device.
These phones are retested and restored to fully functional state and shipped as unboxed phones. A safe bet for a high quality and defect free experience, they also come with a six-month warranty.
2. Same Quality As Boxed
Unboxed phones are brand new. With better return options in their quest to provide great customer service, online sellers also need a channel to sell returned products. Because of this, discounted unboxed phones provide an incentives for potential customers.
The accessories and components are the same, and besides a few indicators of wear and tear on the packaging (the result of a second delivery cycle), your unboxed phone will provide you with the same quality and user experience as a boxed one.
3. Value for Money
There are more phones in the market than ever before and every few months a new generation of gadgets appear with better features and technology. The result of such fast-evolving technology is that phones are being updated frequently, making the prices difficult to reconcile with at times. By buying an unboxed phone, you spend less on a product with depreciating value.
4. A Greener Option
E-waste is one of the most difficult to process and is increasing in volume exponentially.
By acquiring an unboxed phone, you play a pivotal role in reducing the growing menace of e-waste by keeping the gadget in usage rather than have it disassembled.
5. Trusted Sellers
After buying an unboxed phone from a trusted seller, you will enjoy the benefits and assurances that these reputed names guarantee. Compared to brick & mortar shops, an unboxed purchase from an e-seller gives you more options with regards to warranty and returns.
The Quikr 5 day flash sale is an opportunity for you to get great deals on unboxed phones. These retested and brand new phones are available with discounts of up to 50% on October 10th – 14th.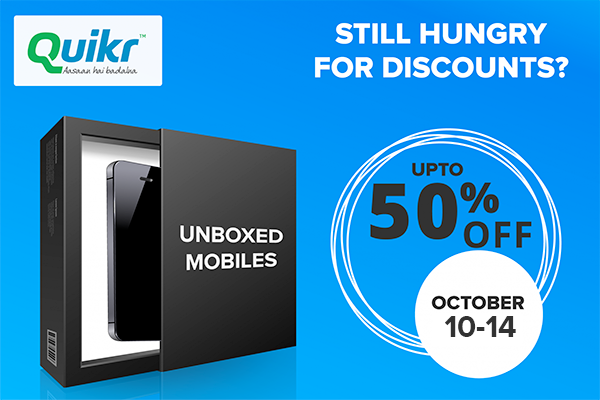 A popular concept all over the world, unboxed phones are gaining popularity in India. They are a great way to get a gadget at a much lesser price point. Quikr is one of the most trusted e-sellers in India and this October, you can get a dream deal in their flash sale on unboxed phones.