There are Govt. jobs to suit every interest and skill. Some of the most in-demand job openings are for teachers, nurses, doctors, engineer apprentices, meter readers and military drivers.
Young people are nowadays hunting for Govt. jobs online. A job in a Govt. organization brings with it, a certain level of respect in the society. People look upto you and want to learn from you.
It helps give you a status of dignity amongst your peers. Not to mention that an opportunity like this will give you stability and job security for life.
You can use QuikrJobs to find jobs in the railways sector, PSUs, banking sector, police academy and other Govt. organizations of repute. Our platform will give you all the help you need to find a suitable sarkari naukri.
You can search for the perfect sarkari naukri by using different filters on QuikrJobs. These filters are easy to use and will help guide your search.
To get the best results, you should ideally input your personal details using the following filters –
1. Experience (0-20 years)
Use this filter to find the jobs for which you'd qualify based on the duration of your work experience.
2. Education
You can share your level of education using this feature. For example – you could select that you are "12th pass", "a graduate", "a post-graduate" etc.
3. Salary
Here, you can input the salary that you'd like to earn. This will help you view only those listings which match your salary expectations.

Not only this, you can further filter jobs based on your preference of location, job type or organization.
Example 1 – If you live in Bangalore, you can select the locality that you want to work in, like 80 ft. road. You can also add that you want a "full-time" job. Then you'll be able to see all the full-time jobs located in the area around 80 ft road.
Example 2 – Maybe you only want to work in a certain organization (for instance, Kendriya Vidyalaya). So you select the Govt. organization that you want to work with i.e. "Kendriya Vidyalaya". You can then view all the jobs in the organization of your choice.
Once you've found the right job, click on "More Info". After clicking on it, you'll see a window like the one below. Now you have to fill personal information about yourself like your name, mobile number, email id etc.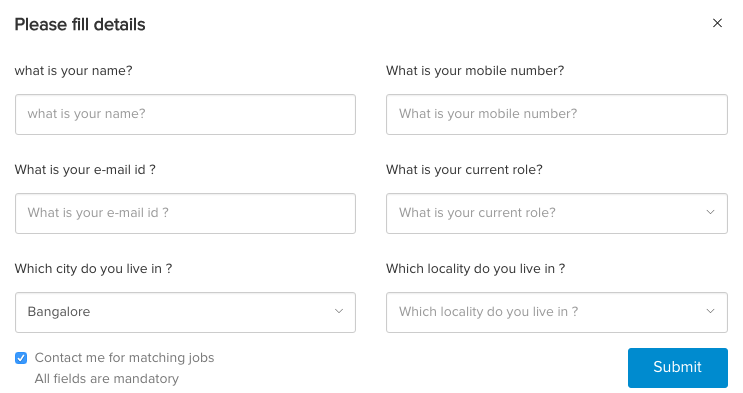 After filling this form, you can also select the option to be contacted for similar jobs. Once you submit the form, we'll share the details of the next step with you.
For instance, if the organization has shared a document about walk-in interviews, we'll share that with you in the form of a pdf file.
Ready to find stability and job security? Use QuikrJobs to find a sarkari naukri today.