Where? RBANMS Grounds, Bangalore.
When? 11am – 9pm from Thursday 3rd March till Sunday 6th March, 2016.
Why? First of it's kind, it's the most exciting auto event of the year. Be there or be square.
We've got something interesting planned for the coming weekend. An event which will have something for everyone. You can buy and sell used cars. Or browse brand new automobiles. Or just come for some light-hearted entertainment. The long and the short of it? It's like an auto addict's dream come true.
The idea behind this event is to bring used car dealers, automobile service providers and most importantly, you aka the car enthusiast – all together in one place. So, what is in it for you?
6 Reasons Why You Should Attend Quikr CarFest This Weekend
1. Have a car that you'd like to sell?
There's going to be a "Park & Sell" section at the CarFest. As the name casually suggests, just park your car right there and let the interested buyers bid for it.
And here's something else – unlike other car trading portals, QuikrCars offers you a unique feature called the MSP calculator. This feature allows you to see what's the maximum selling price that your car can fetch. This will help you negotiate for the right price and finalize the deal.
2. Excited to find your new dream ride?
Well, here's your chance to explore all the auto-loving fun! Made to thrill. Packed with panache. Dripping with adrenaline. Rumbling with power. The seductive sedans. The lavish luxury cars. Or the handsome hatchbacks. Whatever it is that you're looking for in your next ride, we'll have a range of latest models for you to choose from.
There'll be several new car dealers at the event – Kalyani Motors (Maruti Suzuki), Viva (Toyota), Elite Dakshin (Honda), Elite (Volkswagen), India Garage (Mahindra), Elite (Ford) and Tata Motors, to name a few.
3. Your pocket's not feeling so great?
Well, Quikr CarFest will offer you cars that'll fit your budget and prove to be value for money.
We'll evaluate the quality and condition of the cars that people will bring in the "Park & Sell" section and provide you with a well-rounded Inspection Report. We'll thoroughly assess these cars on our 60 point checklist. With this, we hope to assist you in making the right decision at the point of purchase.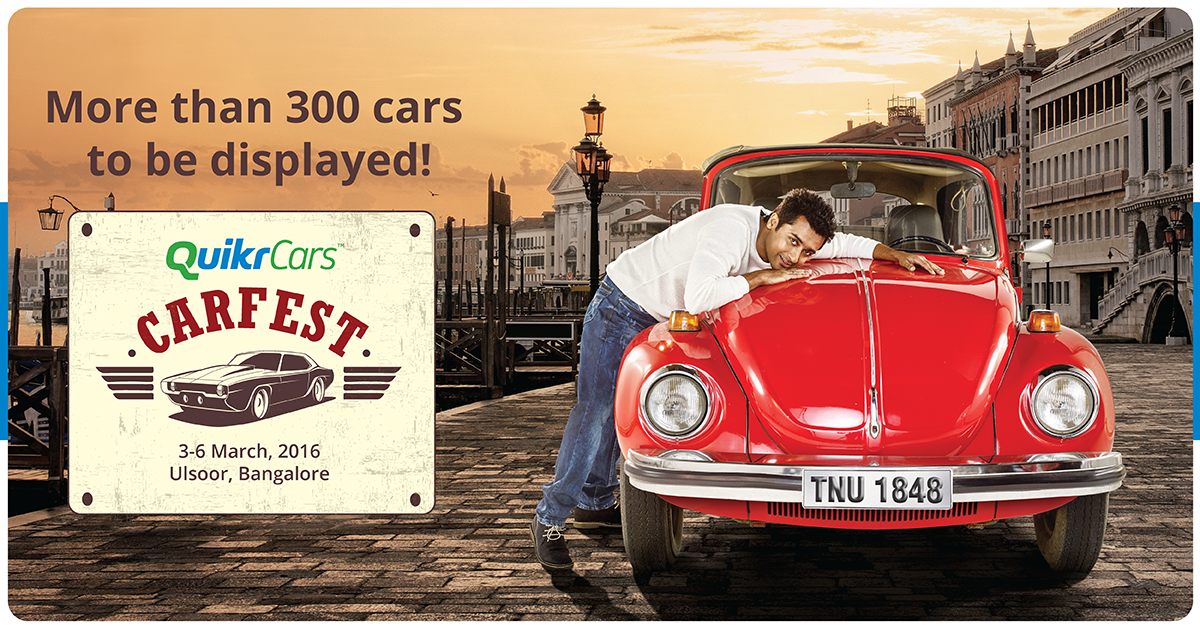 You can choose from over 300 used cars from individual dealers as well. Leading used car dealers like Classic Automotives, Citizen Cars, Cauvery Cars, Evershine Motors, Audi Assured, Mahindra First Choice, Kalyani True Value, Elite Carz, Global Carz and Asian Carz are participating.
And when you buy a used car, we'll also give you a Free Roadside Assistance Package from QuikrCars & Policy Bazaar.
4. With Quikr, you can always expect something more.
A little excitement (or more) never hurt anyone. Stunt bikers will amaze you with their fascinating antics. There'll be some very interesting live performances and food that'll surely tempt your palate. It's going to be an event to remember. And we sure hope that you'll join in.
5 lucky winners will get to meet and greet Suriya! These winners will be selected via a Lucky Draw. To qualify, you'll have to buy or sell at the event.
5. The perks of attending the CarFest are more than you'd expect.
You'll get a chance to reap the benefits of our partnership with HDFC Bank for financing and Policy Bazaar for insurance.
Following are the offers that you can avail of –
–  For HDFC Preferred Account Holders / Top Corporates / Existing Auto Loan Customers, HDFC will offer reduced rate of interest @ 13.05%. And no processing fee whatsoever.
– Zero foreclosure charges post 18 months closure for the above mentioned customers.
–  Premium cars will have a special rate offering of 12% on reducing balance. 7 year options will also be available for premium cars.
–  Used car loans would be sanctioned based on Kyc documents.   
– Refinance and takeover options would also be available.
– If you choose to buy or renew your auto insurance, you'll get the Roadside Assistance Package for free. Not only that, you'll also get a discount upto a maximum of 60% on your insurance premium.
6. For your eyes only – A car that's not really a car.
Oh, and by the way, you'll get a chance to check out a 7 feet long quirky car that's entirely made of smartphones.
Pretty fascinating, we'd say. Undoubtedly, it'll end up being the most thrilling memory that you'll carry with you and share with your friends. Selfies are welcome.
The countdown has begun. The excitement is building fast. The wheels are turning in anticipation. Don't waste a moment. Gather your family and friends and just drive over, okay? We're waiting.