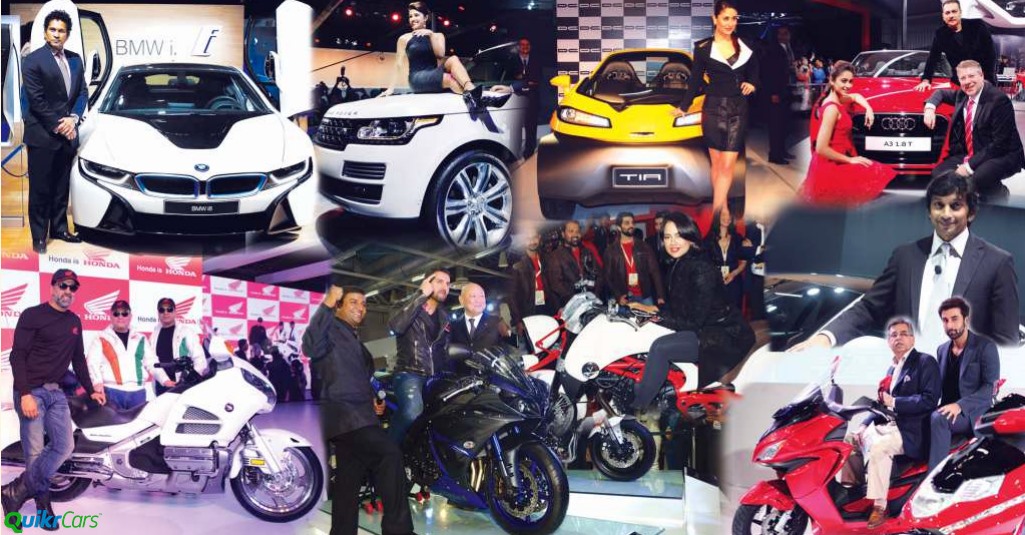 India's biggest auto event, the Auto Expo will return for the 13th time in 2016 and promises to be the biggest one yet. The Auto Expo 2016 is organized by the Society of Indian Automobile Manufacturers (SIAM) along with the Automotive Component Manufacturers Association of India (ACMA) and the Confederation of Indian Industry (CII). The venue is same as that of last year (India Expo Mart, Greater Noida, Delhi, NCR) but will now have a carpet area of 68,000 square meters which is approximately 10% more than of the last iteration. This huge area is split into 6 halls that will feature air conditioning and all the basic amenities. This year the organizers are expecting a total of 6 lakh visitors for the event that spans 5 days starting from the 5th of February till the 9th.
Coming to the exhibitors, the Auto Expo 2016 will see a total of 65 exhibitors that will include car and bike manufacturers, component and parts manufacturers and other media exhibitors. All top bike manufacturers except Bajaj and Royal Enfield are not participating at this year's Auto Expo. Bajaj because they claim they do not have anything new to present and surprisingly Royal Enfield because they want to focus on product development. We were expecting the Royal Enfield Himalayan to be launched at the Auto Expo 2016. Nevertheless we still have some very interesting motorcycles expected at the Auto Expo 2016. We could see the TVS-BMW bike for India along with the new TVS Apache 200. We could then see the Yamaha MT-03 for India along with what Yamaha claims to be a surprise product. Also expected is a whole range of new motorcycles from the DSK stable via the Benelli and Hyosung route. Then of course there is Honda, who themselves have no idea what to display and launch. At the Revfest earlier this year they announced that Auto Expo 2016 would see them finally announcing the CBR300R and its naked counterpart the CB300. Also there is still mystery surrounding the fact whether they will bring in the 500 series into India. Comprising of the CB500F, CBR500R and the CB500X, these motorcycles have the potential to be the perfect big bike for Indian conditions.
The Auto Expo 2016 sure looks to be bigger and better this time. The venue itself has received massive updates not just to accommodate the huge expected volume but also to ensure that everything from food, transport and emergency facilities are at global standards. Ticket prices start from as low as Rs. 300/-.
Download Quikr App for Android, Windows and iOS devices here