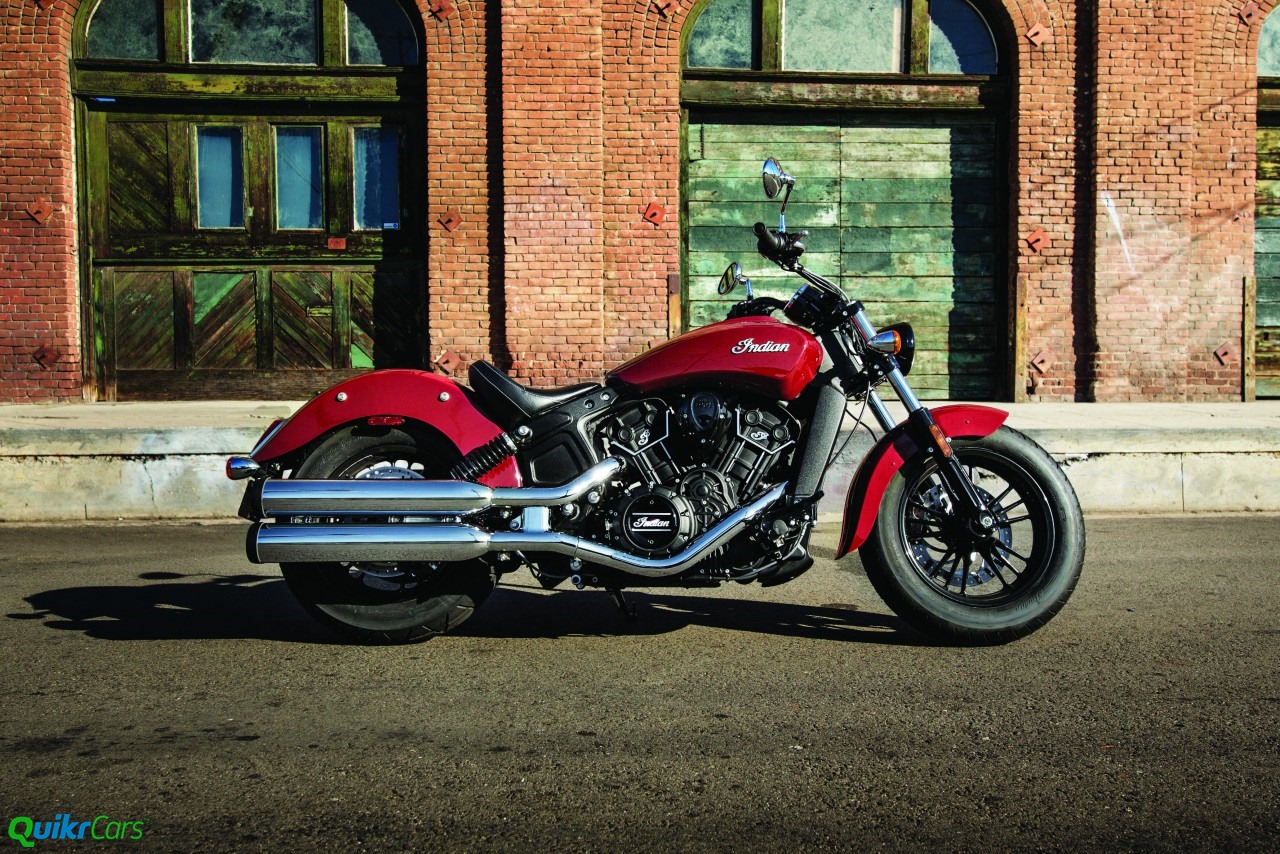 Indian Motorcycles unveiled their new Indian Scout Sixty at the EICMA 2015 in Milan. The new bike is heavily derived from the existing 1133 cc Indian Scout model with the major difference being the smaller 999 cc engine on the Scout Sixty.
The current Indian Scout was launched in 2014 at the Sturgis Motorcycle Rally in the USA. It won the prestigious title, 'Cruiser of the Year' and went out to become one of the fastest selling Indian of all time. Capitalizing on the success of the first Scout, Indian Motorcycles has brought us the new smaller and more affordable Scout Sixty for 2016 in an attempt to repeat history.
The name Scout Sixty is derived from the 60 cubic inch capacity of the 999 cc engine. The new bike is meant for entry-level bikers and has been designed to be more accessible and easy to ride without losing out on the feel of the Indian riding experience.
The most obvious changes that we can observe immediately compared to the original Scout is the black powder coated treatment to the engine and underpinnings of the Scout Sixty. Other interesting changes are the fork bottoms, a modified headlight, clock surrounds, a black finished frame and flat back cast aluminium wheels.
The engine for the Indian Scout Sixty has been newly designed from the ground up. The 999 cc v-twin has a narrower bore compared to the 1133 cc engine of the existing Scout. This has resulted in a lower power output with maximum power now at 78 hp and a peak torque of 88 Nm. More importantly, the new engine is Euro4 compliant. The six-speed gearbox has been replaced by a new five-speed one. However, the fifth gear on the new Scout Sixty has the same ratio as that of the sixth in the existing Indian Scout. With these entire changes one might expect the Scout Sixty to weigh lesser than the elder Scout. However, oddly enough the new smaller capacity Scout Sixty weighs 1.8 kg heavier.
With the new Indian Scout Sixty, Indian Motorcycles seems to have taken the fight directly to Harley Davidson. The bored down Scout Sixty shaves off some power along with the retail price while retaining the character of the elder Scout.
The new Indian Scout Sixty is already in dealerships in the US with a price tag of $ 8,999. That is almost $ 2,000 off from the bigger Scout. It will be interesting to see how the new Sixty will be priced in India if at all it is launched. We believe that the new smaller and more affordable Indian Scout Sixty would be more than a practical option over the Scout for the Indian masses.