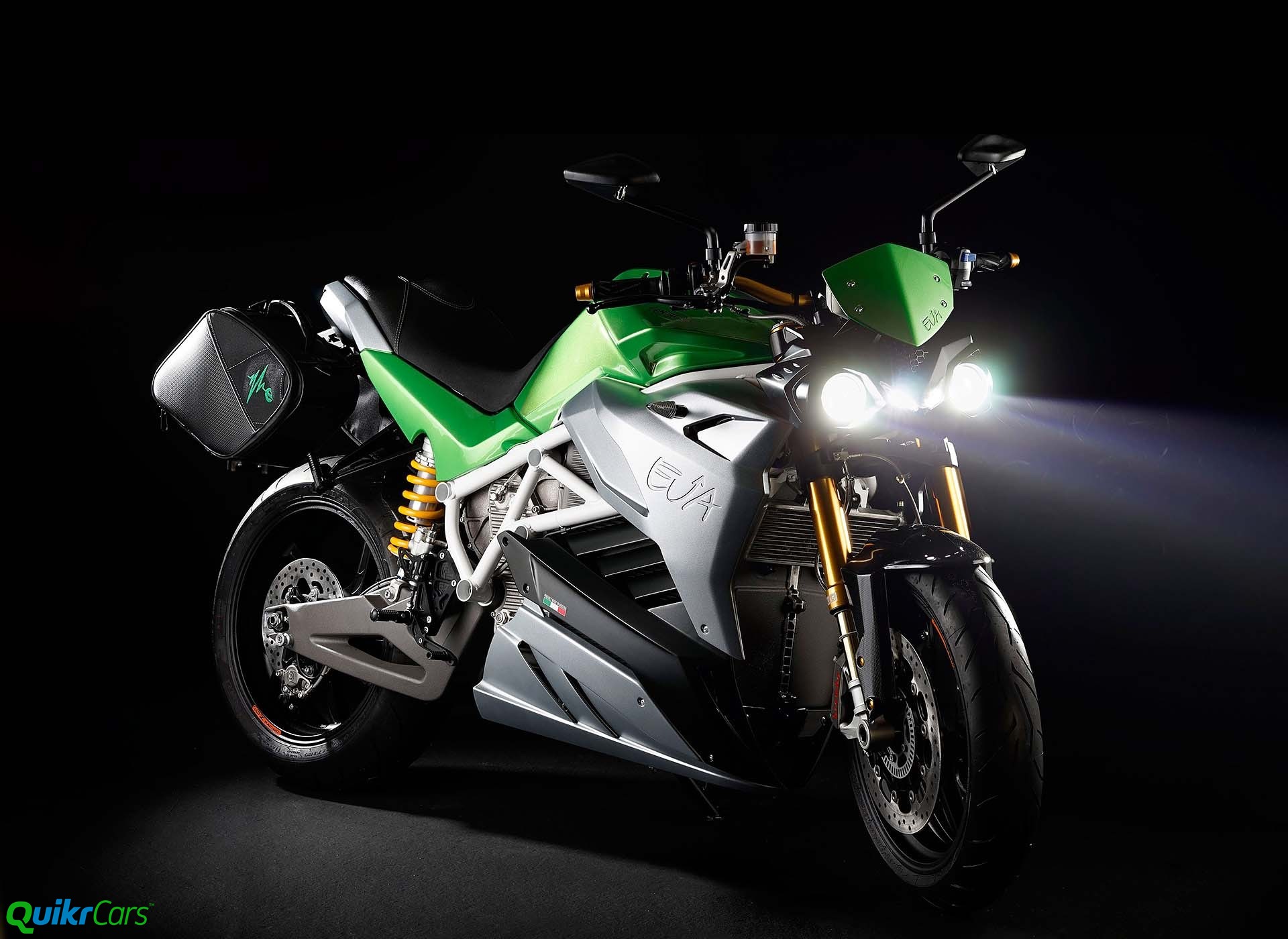 Energica Eva first came into the scene at last year's EICMA. Although it was presented in an unfinished manner, it was clear that this electric motorcycle will have a lot of potential. For the EICMA 2015, Energica have arrived with the final production ready version of the Energica Eva. This bug eyed motorcycle is the world's first all-electric streetfighter.
The initial concept model of the Energica Eva had the same engine from the Energica Evo. But the final production version presented at the EICMA had a toned down version of the same engine. It now produces 95 HP of power and a colossal 170 Nm of torque. Let's put that number into perspective. Generally internal combustion engines have peak torque coming at a certain RPM. But when it comes to electric motors, you have all that torque available instantaneously. So you pretty much now have a machine the darts forward instantly and is capable of doing a top speed of 200 kmph. Energica says that in ECO mode, you could get a range of up to 200 kilometres. It takes 3.5 hours to fully charge though.
Unlike a conventional motorcycle you do not have a gearbox to work with and the all the control is by the ride-by-wire throttle. You also get some assist with regenerative torque braking, which can also be customized to suit your riding style. This naked electric streetfighter gets ABS as standard and has a sophisticated Vehicle Control Unit that constantly monitors and adapts the battery, inverter and charger for maximum efficiency.
The high tech dashboard has an on-board GPS and Bluetooth connectivity so that you keep track of things and even adjust settings via your smartphone. Energica have not compromised on any aspect of the Energica Eva and that is evident in the braking and the suspension equipment that this electric streetfighter comes with. Braking is handled by a double 330 mm, 4 piston Brembo system at the front and a single 240 mm, 2 piston Brembo system at the rear. The suspensions are from Marzocchi at the front and Ohlins at the rear.
The biggest problem with electric motorcycles has been their range. Unfortunately the Energica Eva also suffers from the same issue. Add the charging time of 3.5 hours to this mixture and you just know that electrics are still a long way from becoming a practical option. The battery technology needs to see massive leaps in storage capacity and even reduction in weight. But the future looks bright and electric motorcycles sure seem to be where we are headed.