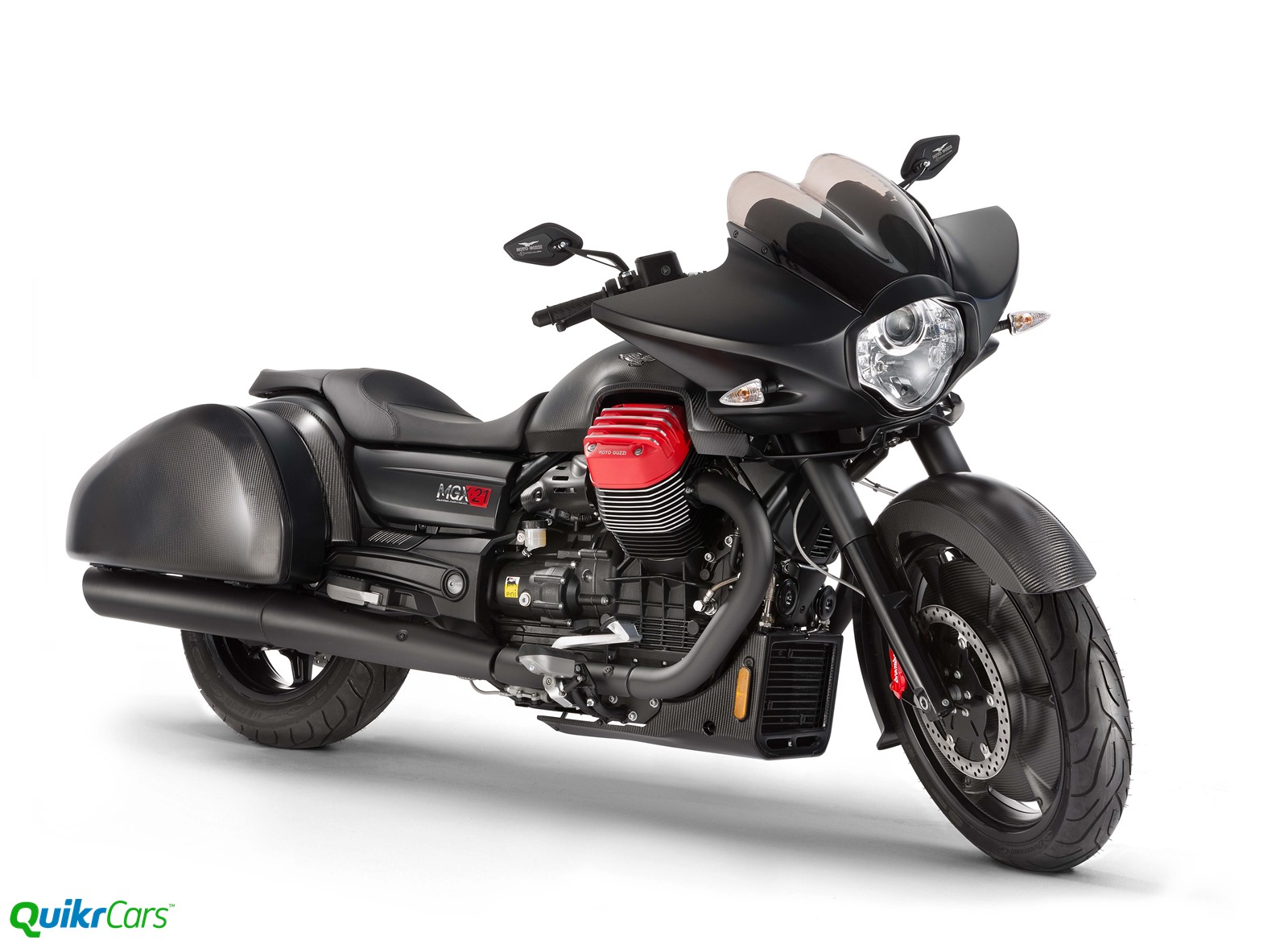 This concept bike gets a nod for production as the 2016 model year Moto Guzzi MGX-21 Flying Fortress which was unveiled at the 2015 EICMA. It is nice to see that the Flying Fortress keeps most of the styling bits from the concept that was displayed last year. The Moto Guzzi website for the new Flying Fortress simply says "A motorcycle that breaks every rule".
The Moto Guzzi MGX-21 Flying Fortress is a 1,400 cc cruiser aimed mostly at the American cruiser enthusiasts. The new bagger is basically a reworked Moto Guzzi California 1400. The Flying Fortress has a very futuristic look to it while the California 1400 represents classic cruiser styling.
The most defining feature of the Moto Guzzi MGX-21 Flying Fortress is the extensive use of carbon fibre. The front fender, case covers, saddlebags, wheel covers, tank panels are all made of carbon fibre. The massive heavily sculpted front fairing makes the Flying Fortress look like an alien one-eyed Cyclops. However, the fairing would provide a much needed relief from wind blasts during long distance cruising.
The Head of Piaggio Advanced Design Center in Pasadena, Mr. Gulluzi said: "We wanted to push beyond our thoughts and dreams, to take a leap into the future. We dared imagine a different way of travelling, cooler, as the Americans would say. And we imagined that Moto Guzzi would design and build its own bagger." He added that the design of the Flying Fortress was inspired by the interpretations of the American taste by the Italians which combined the Italian creativity and the American pragmatism.
Apart from the styling of the bike, it is the wide range of electronic rider aids that help the MGX-21 stand out. It features a three level traction control which can be turned off altogether. It has three riding modes, 2-channel ABS system, cruise control and a ride-by-wire throttle control system as standard. Lighting is all LED and has a monochrome dot matrix instrument cluster display. It is also equipped with stereo entertainment system, intercom and Bluetooth connectivity.
The Moto Guzzi MGX-21 Flying Fortress will be exclusive and produced in limited numbers only. The online reservations for the bike will begin shortly. The bike will debut in the USA in August 2016 at the Sturgis Motorcycle Rally which is one of the biggest gatherings for bikers in the world.