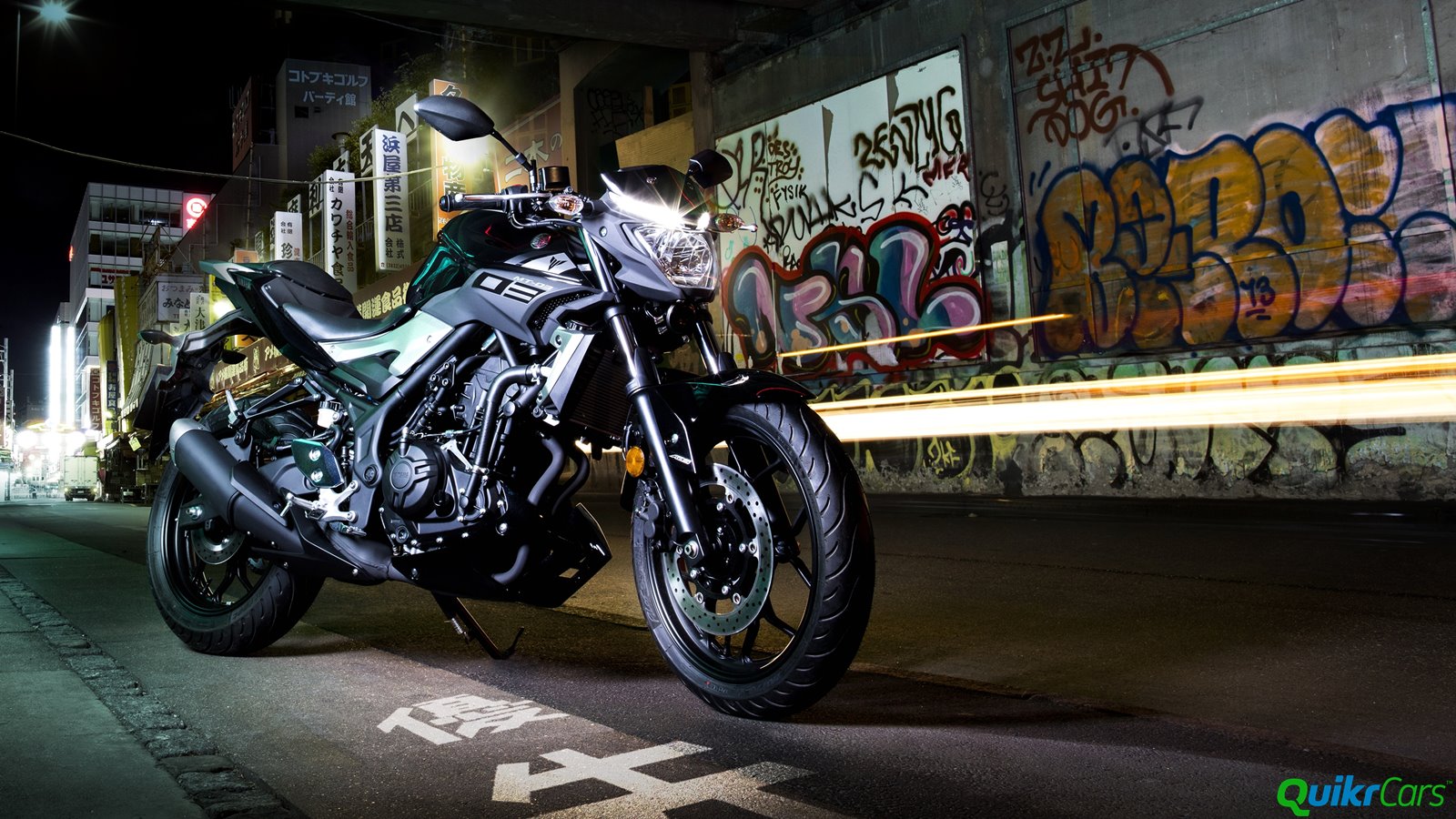 Yamaha may have surprised us with the MT-10, but for India the highlight at the EICMA Yamaha stall was the MT-03. Based on the Yamaha R3, the Japanese company unveiled the EU spec MT-03 at the EICMA. The MT-03 shares pretty much everything with the Yamaha R3 except the obvious changes to the fairing, handlebars and the headlights. In the EU region this naked bike from Yamaha will be a proper starter/learners bike that falls comfortably in the A2 license bracket.
The Yamaha MT-03 like its faired sibling has a twin cylinder 321 cc engine. It is of course fuel injected and produces 42 Ps of power at 10,750 RPM and 29.6 Nm of torque at 9,000. It is a bit disappointing to see the torque figures coming at such a high RPM especially considering that this is primarily going to be a city bike. Yamaha of course have come up with the justification that the first two gears are short and should aid city ride-ability. But we are sceptical, since there are no mechanical and gear ratio changes between the MT-03 and the R3, it is highly unlikely that the MT-03 would be comfortable in slow moving traffic.
Moving on and looking at the positives, things that would really be a boon for city riding would be the low seat height of 780 mm, the upright and wide handle bars and the 160 mm of ground clearance. The Yamaha MT-03 also has a "mass forward" design, which basically means that entire weight of the bike is kept as forward and low as possible. This has two aspects; one the obvious resulting low centre of gravity that aids handling and the second is to give the MT-03 a very compact design. The tail section is very minimalistic too, further enhancing the compact outline of the bike.
The 2016 Yamaha MT-03 for the EU region comes standard with ABS and hopefully when it comes to India it will feature the same. The Yamaha R3 also is due for an ABS update next year. We in India will get our first glimpse of the Yamaha MT-03 at the Auto Expo 2016 and hopefully a launch in the first half of the year. With the R3 already on sale in India, it should be easier for Yamaha to bring in the MT-03 as well. We expected that the Yamaha R3 would be locally made in India but it turned out to be brought in via the CKD route and resulted in a disappointingly high ex-showroom price of 3.25 lakh. If the Yamaha MT-03 follows suit, we might have another overpriced Yamaha in the market.