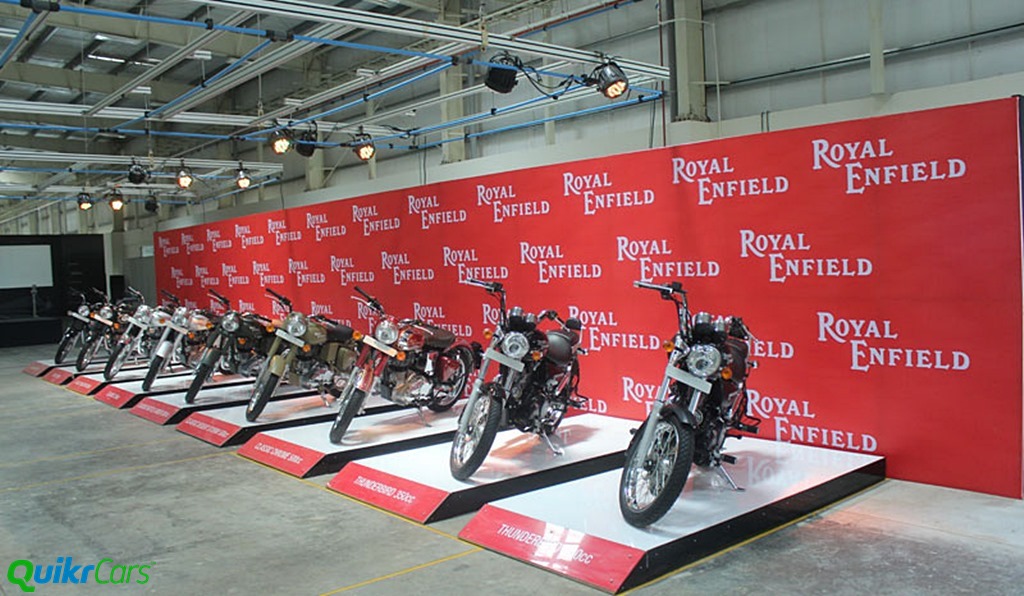 The oldest motorcycle manufacturer in continuous production, Royal Enfield, has plans to increase its production capacity in the coming year. Eicher Motor's two-wheeler subsidiary will be setting up a new production plant at Vallam Vadagal near Oragadam. This would be Royal Enfield's third plant which would help in doubling the production capacity.
Eicher Motors acquired 50 acres of land in Vallam Vadagal early this year for Rs. 57 crore. At present, Royal Enfield's production takes place at two locations, Thiruvottiyur and Oragadam in Tamil Nadu. The production capacity of the two plants currently is around 4,50,000 units per annum. With the addition of the third new plant which will see its construction starting early next year, Royal Enfield aims at increasing the production capacity to 9,00,000 units per annum.
The long waiting period for its bikes has led Royal Enfield to increase its production capacity. Currently, the average waiting period for a Royal Enfield bike is around three to four months. The company also announced that they are working on two new platforms. One would be launched early in 2016, which we suspect would be the new 410cc Himalayan, and the second would be coming out in the year 2017. The new plant might be set up to accommodate the new platforms as well.
The cult motorcycle manufacturer has seen enormous growth in the recent years. In the first nine months of 2015, from January-October, Royal Enfield's sales grew by 51 percent compared to the same period last year, selling over 3,64,100 units. Apart from the domestic Indian market which sees 96 percent of the total sales, Royal Enfield has also seen strong growth in the overseas markets. The company reported 37 percent increase in international sales in the first nine months of 2015 over the same period in 2014.
Royal Enfield has recently set up exclusive showrooms in Paris, Dubai, Columbia and Madrid to build their presence in the international market. At present they have over 400 dealerships overseas including ten new exclusive brand stores. Speaking about the overseas market, Siddhartha Lal, MD and CEO of Eicher Motors said, "For us, numbers are not so important, we just want to establish our brand in the markets overseas. I think if number is the only thing then we can get any number in India".
As part of strengthening Royal Enfield's hold in the international market, the company recently announced it first fully owned overseas subsidiary in North America. Royal Enfield North America will have its Headquarters at Milwaukee in Wisconsin. Royal Enfield has also plans of opening exclusive stores in Jakarta, Indonesia in a bid to focus on the South-East Asian markets as well.