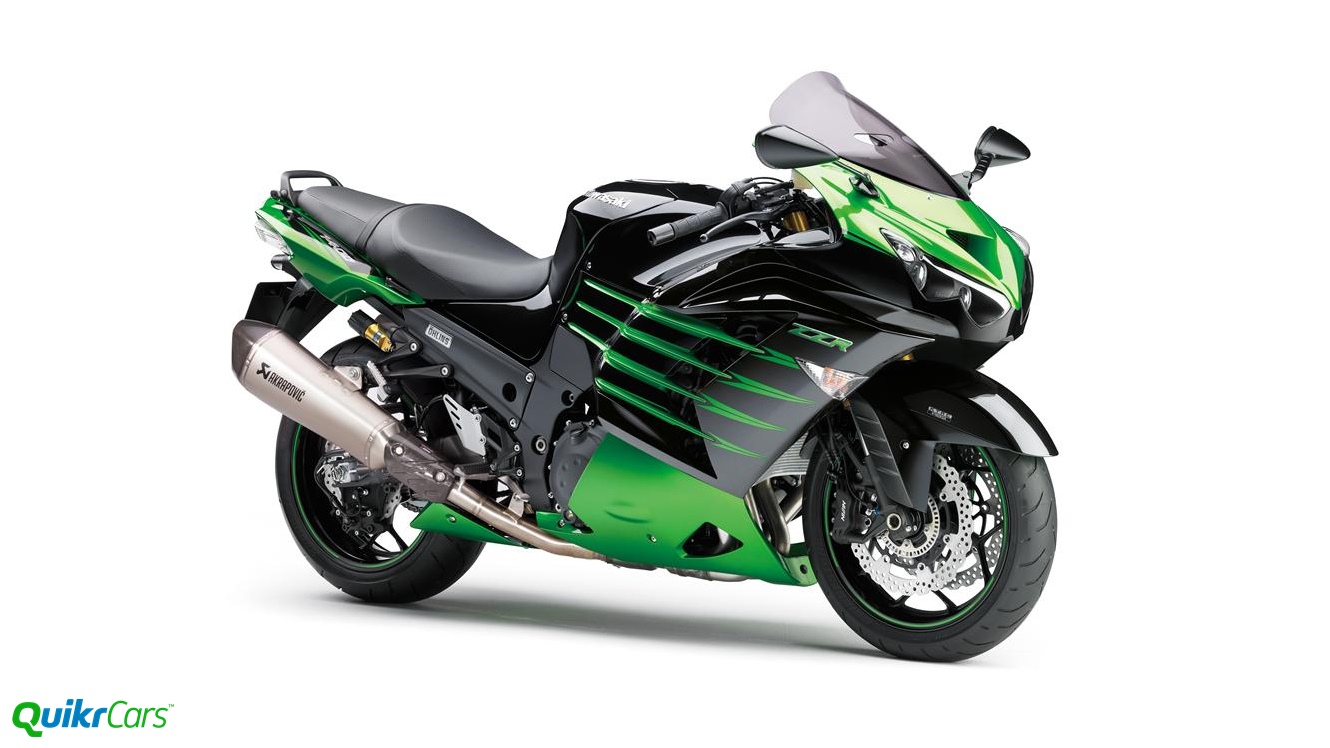 Kawasaki has brought some modest changes to the sport-touring ZZR1400 for the 2016 model year. The main focus of the update is to the engine and exhaust to make sure the bike meets the Euro4 emission regulations. The 2016 Kawasaki ZZR1400 will have two variants with one being the base model and the other a higher-spec ZZR1400 Performance Sport.
The 2016 Kawasaki ZZR1400 achieves the Euro4 emission regulations without compromising on the performance of the motorcycle. The new ZZR1400 makes the same power and torque figures as the current year model. The 1441cc in-line four-cylinder engine kicks out a maximum power of 197.4 BHP at 10,000 RPM and 207 BHP with the ram air effect. It makes a huge maximum torque of 158.2 Nm at 7,500 RPM. The top speed of the ZZR1400 is still limited to 298 km/h.
Kawasaki has tweaked the ECU mapping as well as the exhaust system design on the ZZR1400 to keep the emissions low without decreasing the performance of the engine. A new fuel vapour filter is employed to keep the emissions in check.
Apart from the Euro4 specific changes Kawasaki have also touched upon some other features. The 2016 Kawasaki ZZR1400 gets a new instrument cluster with high visibility dials and a new clear central LCD panel. The LCD panel display can be switched from regular to negative allowing the user to select the best display according to the external lighting conditions.
The higher-spec Kawasaki ZZR1400 Performance Sport variant features a couple of more upgrades in the braking and suspension departments. The front brakes are the new Brembo M50 Monobloc callipers straight off the new 2016 ZX-10R which was revealed earlier. The callipers are combined with the Brembo radial-master cylinder and stainless steel braided brake lines. With the motorcycle weighing around 269kg along with the 200+ BHP power figure, upgrade to the braking system is gladly welcome.
The Power Sport variant also gets the Öhlins TTX39 rear monoshock unit tuned specifically for the ZZR1400 along with a specially engineered pair of new Akrapovič exhaust systems. Apart from the mechanical upgrades the 2016 Kawasaki ZZR1400 receives some electronic upgrades trickling down from the Ninja H2 such as the K-ACT ABS, KTRC traction control, dual switchable power modes along with the ECO riding indicator as standard. The Hayabusa competitor, Kawasaki ZZR1400 is sold as the ZX-14R in India and the prices for the 2016 model have not been released yet. The current year model ex-showroom price in Delhi is 16.8 Lakhs.