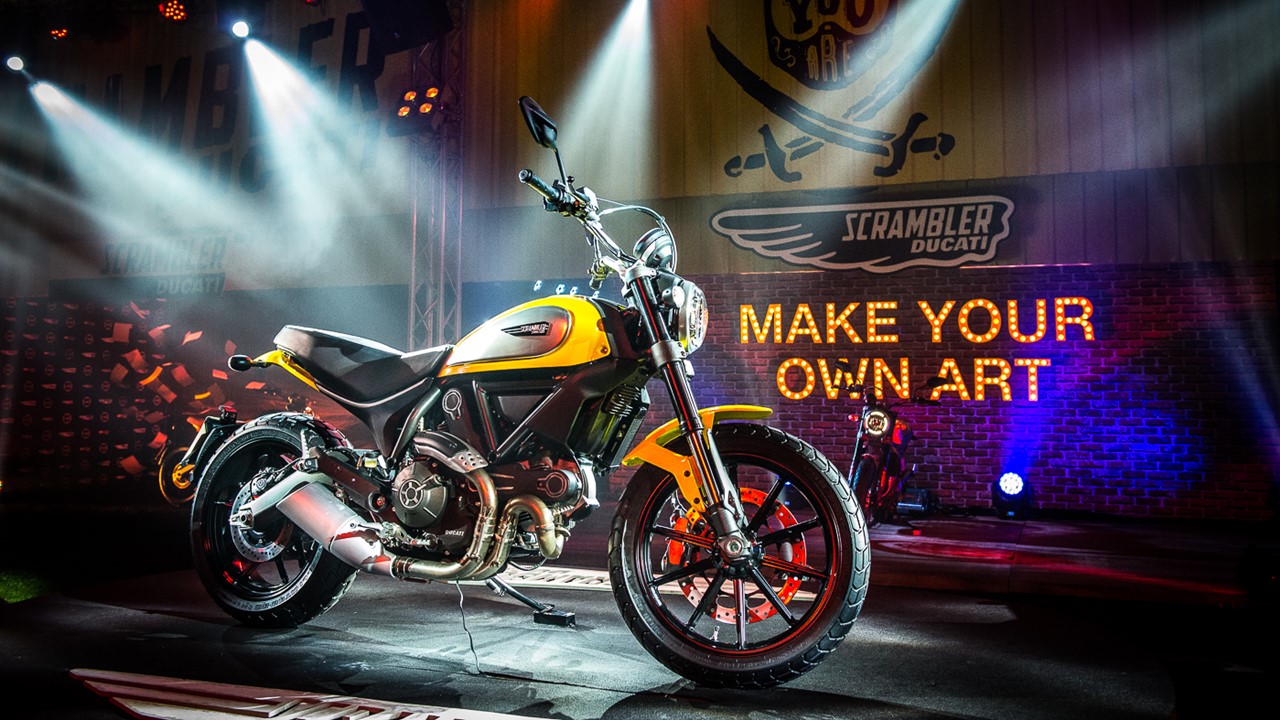 Rumours about a smaller Ducati Scrambler are not something new. We have been hearing about Ducati working on a new Scrambler almost since after the Ducati Scrambler was launched last year.
The rumours seem to be getting some credit with Ducati posting comic strips called 'The adventures of Bart & Betty' in the 'Land of Joy' on their official Ducati Scrambler Facebook page. The post says that they might "have a little Scrambler news for us".
The biggest point of discussion generated by earlier rumours was about the engine of the new baby Scrambler by Ducati. Many speculated that Ducati might go ahead and design a single cylinder engine for its new entry-level bike. And also, the capacity of the engine was quoted to be different every time ranging between 300-600cc.
With just a couple of weeks left for Ducati to reveal their new bikes for the 2016 model year at the pre-Milan launch event, there has been some clarity about the new Scrambler. The bike will be retaining the V-twin engine design. And, the capacity of the engine would be 400cc. With the new engine, Ducati plans to open up its brand to younger riders by making the bike A2-license compliant.
The new Ducati Scrambler 400 would be an entry-level bike and would have a very low margin for dealers. Mainly, it would be much more affordable for buyers than the existing Ducati Scrambler. We guess Ducati might hope to make money out of the Scrambler apparels and aftermarket parts. Another speculation about the new 400cc Ducati Scrambler is that the new bike is aimed at Japan and other south-east Asian countries.
Ducati's CEO, Claudio Domenicali already announced that the Italian motorcycle manufacturer would be treading new waters with the launch of two new models in completely new segments. From this, we can pretty much assume that the new 400cc Scrambler would be a world-wide release rather than region specific.
At this point, we are pretty much sure about four new bikes out of the nine new models to be launched at the Ducati world premier ahead of the EICMA in Milan. One is the recently launched Monster 1200R. Second would be the Panigale 959. Third, the belt-driven Diavel, and finally the fourth being the new 400cc Scrambler.
The new 400cc Scrambler with a V-twin engine sounds like a great buy for Indian bike enthusiasts. With the new baby Scrambler, it's sure that Ducati will want to take on the Harley Street 750 that has been doing quite well. Any Ducati fan who loves the thrill of a V-twin would be able to make his dreams come true without drilling a very deep hole in his pocket. We hope that the new 400cc Ducati Scrambler makes its way to the Indian market as well.