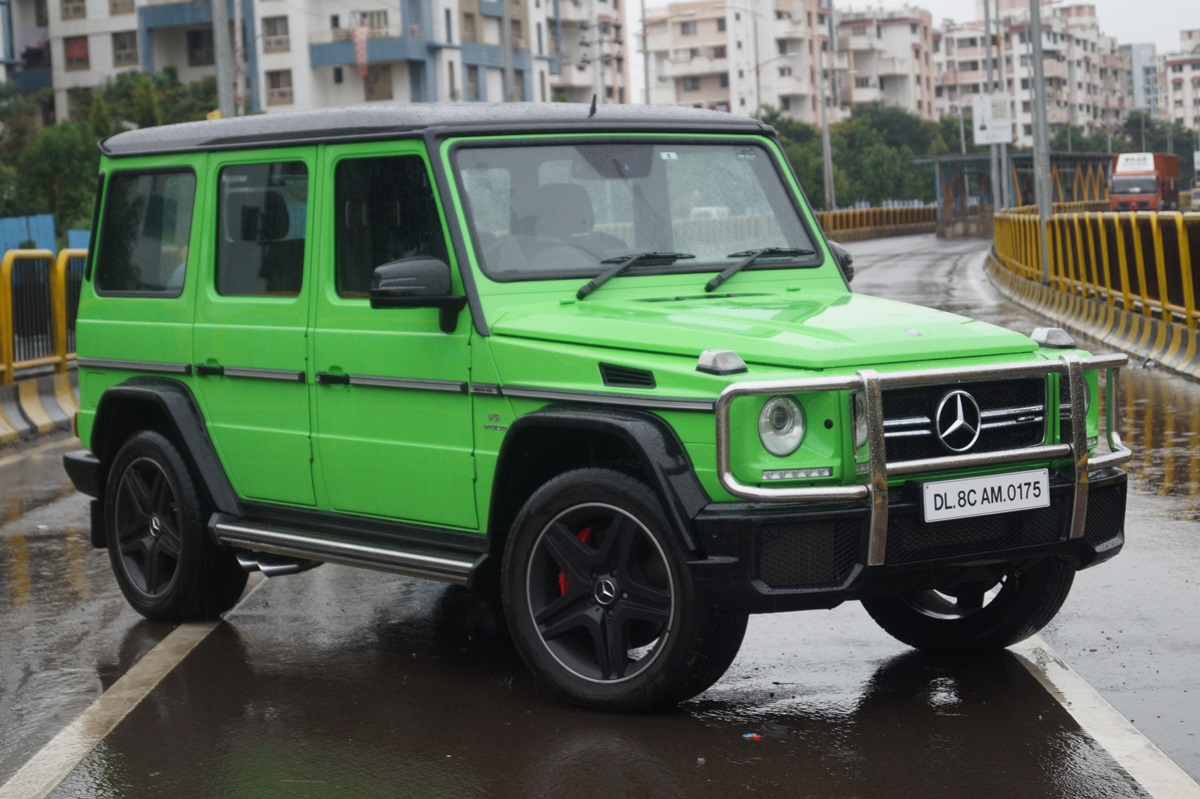 'Value for money' is a cliché used to justify prices of goods or services, often with reference to competing products in that category. But what if you have an option to buy something which actually does not have competition and is hence a benchmark by itself? Suddenly such clichés fade away and what ultimately matters is whether the particular commodity gives you the satisfaction or not, regardless of the price.
We had a deja vu moment, when we got an opportunity to drive the Mercedes-Benz G63 AMG wagen. My memories of the G-Wagen have been of a highly capable off-roader with three differential locks— the German ability to build only the best. Then I had got my hands on the G55 AMG, which was another gem from Mercedes-Benz. A highly capable off-roader that can go fast! Very fast! The 5.5-litre V8 engine with a supercharger churns 507bhp and 700Nm of torque. This is surely power packed. With so much power under the hood, one doesn't ask or think of any more. It seems that the guys who built this, weren't satisfied with this, so they decided to throw out the supercharger and add two turbos instead. Now, it is the G63 AMG as it produces about 536bhp and 760Nm of power and torque, 30 horses more than before and is even quicker and crazier SUV! Now, this SUV did look macho with the dual exhaust pipes and those large wheels, but still something did go missing. So without changing the body design, one bloke came up with the idea of changing the colour scheme and the Crazy Colour was then introduced.
First glance at the G63 AMG, and you might consider it for some understated SUV. But first look at the G63 AMG Crazy Colour and you will want to have a closer look at it. Kids found it cute and got magnetised towards it. But then when you start the beast, it burbles to life. The exhaust note will further catch your attention. The exhaust note isn't the grunty one as you have in other AMGs, this has short exhaust pipes that makes loud and raw. The design of G-Wagen hasn't changed much, however the new added elements make it look modern. The headlamps have daytime running LEDs, then there is the new footboard and low profile tyres. The G63 has a strong character when it comes to design and it is commendable how the brand has managed to retain the SUV with minor time-to-time updates to keep it looking fresh.
The interiors of this SUV have been customised to add some of the AMG touches and even made it more stylish. There is the AMG steering wheel with flappy paddles and then there is also the AMG gear knob that looks stunning and elegant. What is incredible, is the front row seat comfort. It cocoons you and one can tighten or loosen the seat's side, lumbar and other supports to make you tailor fit the seat. One can even tighten the seat to an extent that there is no roll for the driver or the passenger, even when you make this beast sway around winding roads. The not-so-down point is the rear seat, which is more like a leather-wrapped bench. Not very comfortable, ok-ish even it comes to thigh support and even knee room. The boot is large and plenty of space for the five travelling in the wagen for a weekend trip. Another add-on benefit that the G possesses is the all round visibility. One has good visibility and you can easily have a good judgement for this SUV's left front corner, making it easy to make tight turns. Another downer is that some materials used on this SUV are still very crude.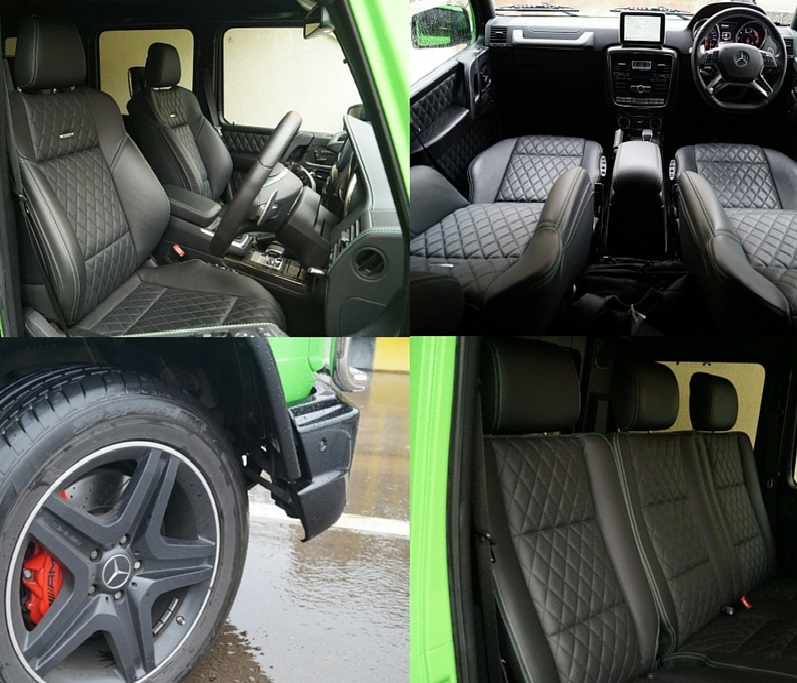 The G63 AMG comes with a 5.5-litre V8 engine that churns about 536bhp of power and 760Nm of maximum torque. Rev the engine in neutral and this SUV will rock from side to side— indicating that there is a monster underneath the hood, waiting to break-free. When the two turbos kick in, there is a gush of boundless torque that cannot be tamed with ease. Plant your right foot and you will be smiling all the time. One drive in this SUV and your day is made. The G63 AMG is surely that SUV, which can make you happy! Very happy! Put it around bends and it takes each one as it comes, shifting its mass of tons with ease, despite the high ground clearance. It can take almost anything you throw at it. The G63 AMG is a class apart from most of the SUVs. Put it off the road, and it will perform like no other SUV can. This SUV has three differential locks, which is a character seen most on army vehicles as they do the serious off-roading. The suspension of the G63 AMG is stiff, as this SUV has high ground clearance and it has to perform like an AMG on a straight road and even on twisties, so the ride is on the stiffer side.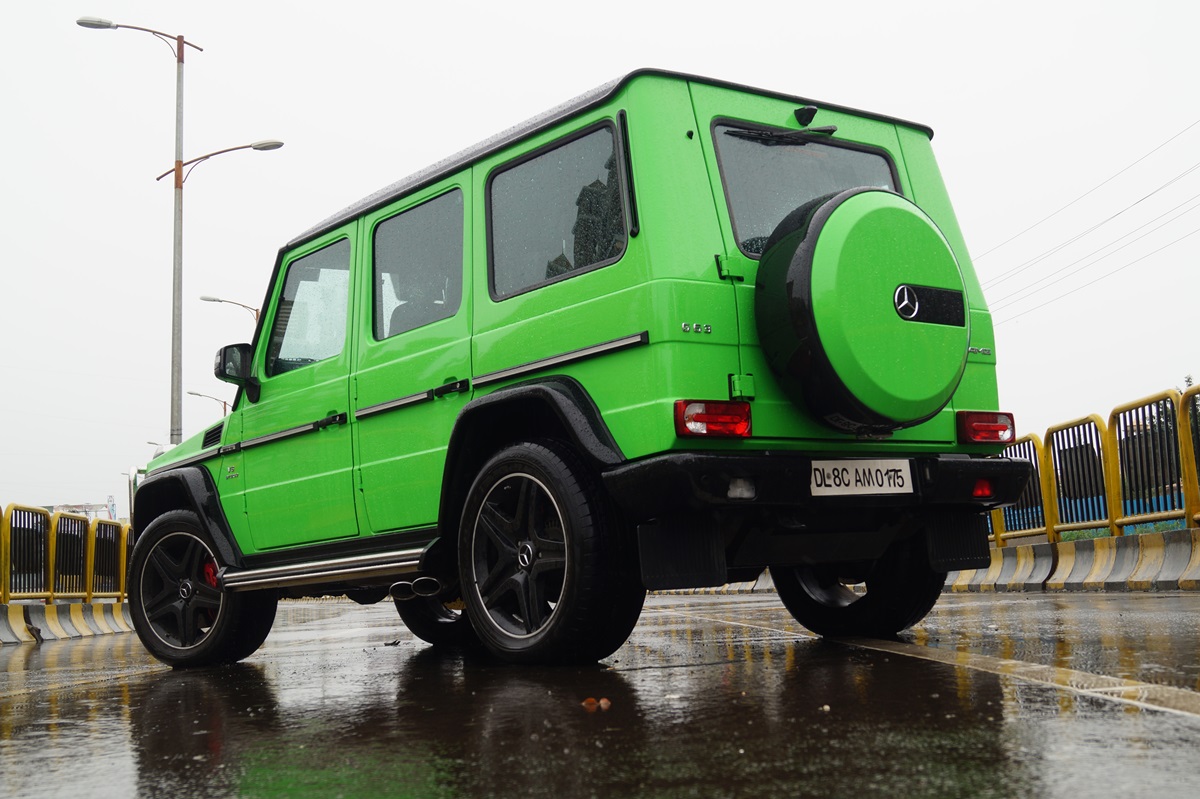 The G63 AMG is a mad-mad SUV! If you have more than two crore bucks in your account and your hands are feeling itchy for a sports car, then look no further as this will be a better pick. You can drive on bad roads, off the road and still compete with a sports car. With the crazy colour scheme, G63 is the best SUV money can buy. Only if you have that money! Being auto experts we shall recommend the G63 AMG despite its excessive premium price tag. And frankly, there won't be anything similar around.