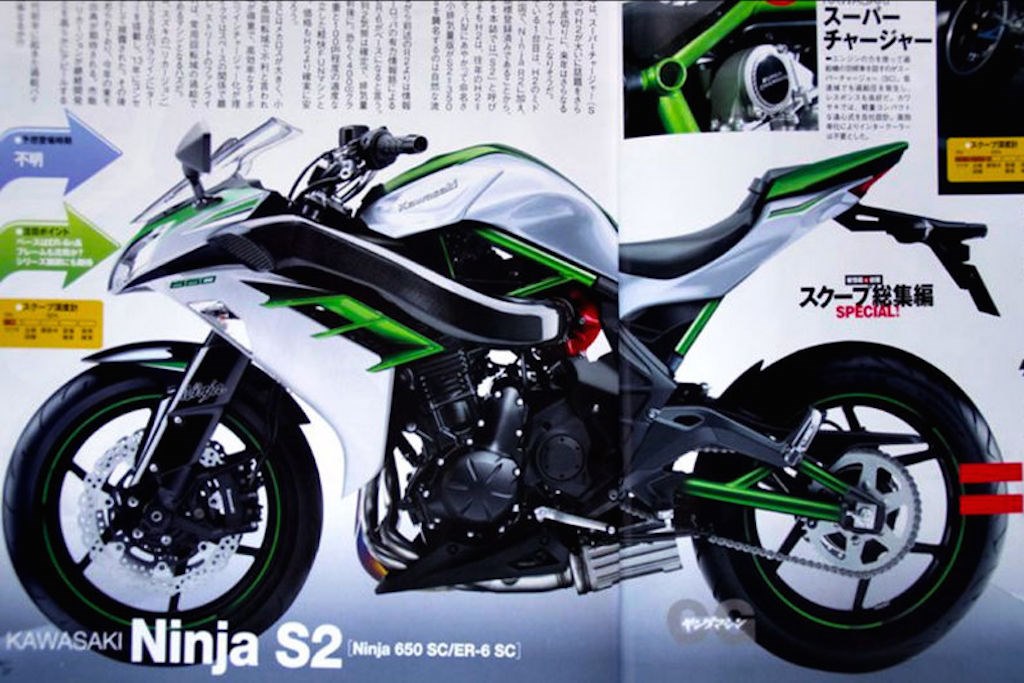 Japanese motorcycling magazine, Young Machine, reported in their latest issue that Kawasaki has been working on a new bike called the Kawasaki Ninja R2. According to the published article, the Ninja R2 would be a lower-spec variant of the supercharged Kawasaki Ninja H2. With the Japanese manufacturer filing patents and trademarking the Ninja R2 name earlier this year in several regions, the article from Young Machine have some credibility. But, from past experiences, we have seen that articles from the Japanese magazine need to be taken with a strong dose of speculation.
The magazine also has a rendered image of the rumoured Ninja R2. But, all that proves is that Young Machine has a really good new graphics designer who has done nothing but change the colour of the Ninja H2 to red. But then again, Kawasaki working on new forced induction machines would actually make sense. Because this way, the Japanese factory would be able to capitalize on the money spent in developing the Kawasaki Ninja H2 and H2R. But until there is more concrete evidence, we cannot know how the Kawasaki Ninja R2 would be different from the Ninja H2.
The magazine Young Machine, in the same issue, also reports of Kawasaki developing a middle-weight 650 cc Kawasaki S2 which would also come fitted with a supercharger. The picture of the Kawasaki S2 appears to be a rendering developed by taking bits and pieces off of Kawasaki's existing models. The concept of Kawasaki S2 is very similar to the Suzuki Recursion Concept. The production version of the Suzuki Recursion is expected to be unveiled at the Tokyo Motor Show and in Milan in the coming weeks. Keeping this in mind we can only assume that Kawasaki would like to pose strong with new models having superchargers to take on its Japanese competitors.
Along with these, reports of Kawasaki working on a small displacement Ninja 250RR was reported by Indonesian publication TMCblog.com. According to them the high-performance Ninja 250RR will have a 4-cylinder engine similar to the old high-revving small-displacement Japanese machines from a few decades ago. The article reports that the new Kawasaki Ninja R2 and S2 will be making a début at the Tokyo Motor Show. If the rumours are true, then this would be a dawn of a new forced-induction segment in the motorcycle industry. Till then, let's keep an open mind, fingers crossed and pray that Kawasaki will go ahead and take motorcycling to a whole new level.