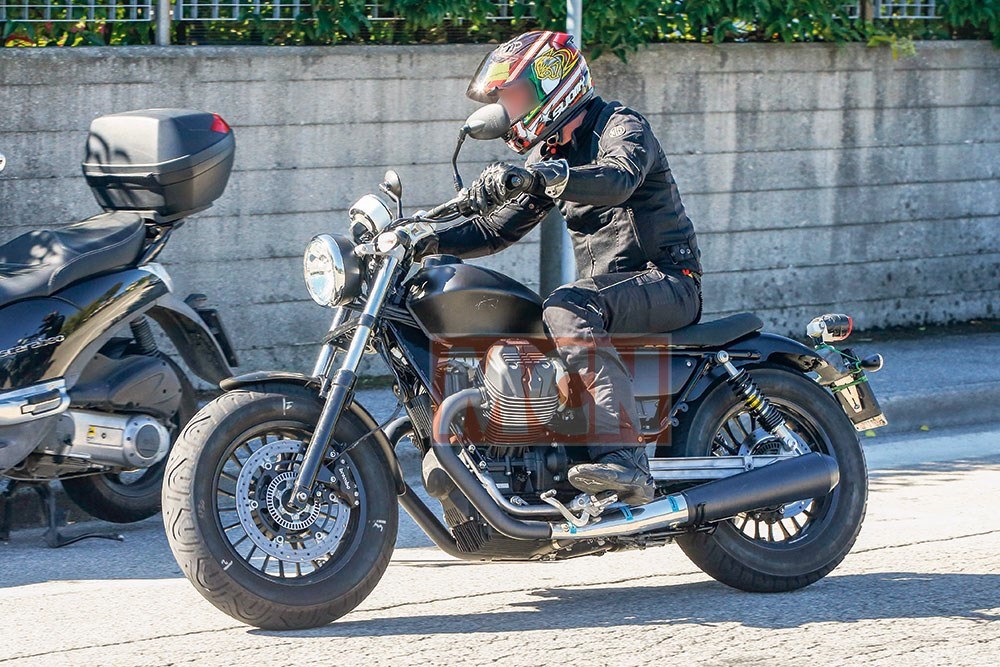 The Moto Guzzi V7 has been the largest-selling motorbike in the Moto Guzzi portfolio. The bike has great retro styling replicating the legendary Moto Guzzi V7 Sport of the 1970's. Over the years the V7 has earned high reputation and has attracted a wide audience ranging from die-hard Guzzi fans to people who love the bike just for its look and sound. The Moto Guzzi V7 has also built a liking from daily riders for its smooth and practical performance which makes for an easy everyday ride. Much of its fame can be accredited to its V7 engine's performance which makes the bike so easy to ride.
Recently, outside the Moto Guzzi factory in northern Italy, a new bike with the Moto Guzzi V7 engine was spotted testing. The bike seems to have the aggressive styling of the high-end 1400 cc Audace. But, this particular bike appeared to have the 744 cc V-twin from the Moto Guzzi V7. It appears that the 2016 Moto Guzzi Audace will also have a version based on the beautiful V7 engine.
This new 2016 Moto Guzzi Audace version might be a more affordable take on the 1400 cc Audace which costs over a heavy £15,000 in the UK. The new smaller capacity variant would be much more affordable and also make it A2-licence complaint. This would hugely widen the potential customer base. The styling of the bike spotted is very chunky and in lines with the bigger Audace. The bike was spotted sporting a balloon front tyre with cast alloy wheels. The fuel tank, seat unit and exhaust also seemed to be newly designed.
2015 saw Moto Guzzi make significant updates to its V7 motor. This certainly means that the air-cooled small block V-twin is here to stay with us for many more years. Also, the V7 bike got many updates which might be seen on this new smaller Audace sibling. The Moto Guzzi V7 II as it was dubbed with the updates in 2015 came with traction control and ABS as standard. And even the 5-speed transmission was replaced by a 6-speed.
The updated engine of the Moto Guzzi V7 II which was spotted on the test bike would suit the styling and performance required by the "smaller" version of the Audace with a claimed 46 HP and good torque from low revs. This would make the bike easy to ride with style which is the real mission of Moto Guzzi. It could even be called the 2016 Moto Guzzi Audace V7 II. In the spied photos, the new bike seems production ready. This means that we can expect to see the new Guzzi being unveiled in a couple of weeks at Milan.