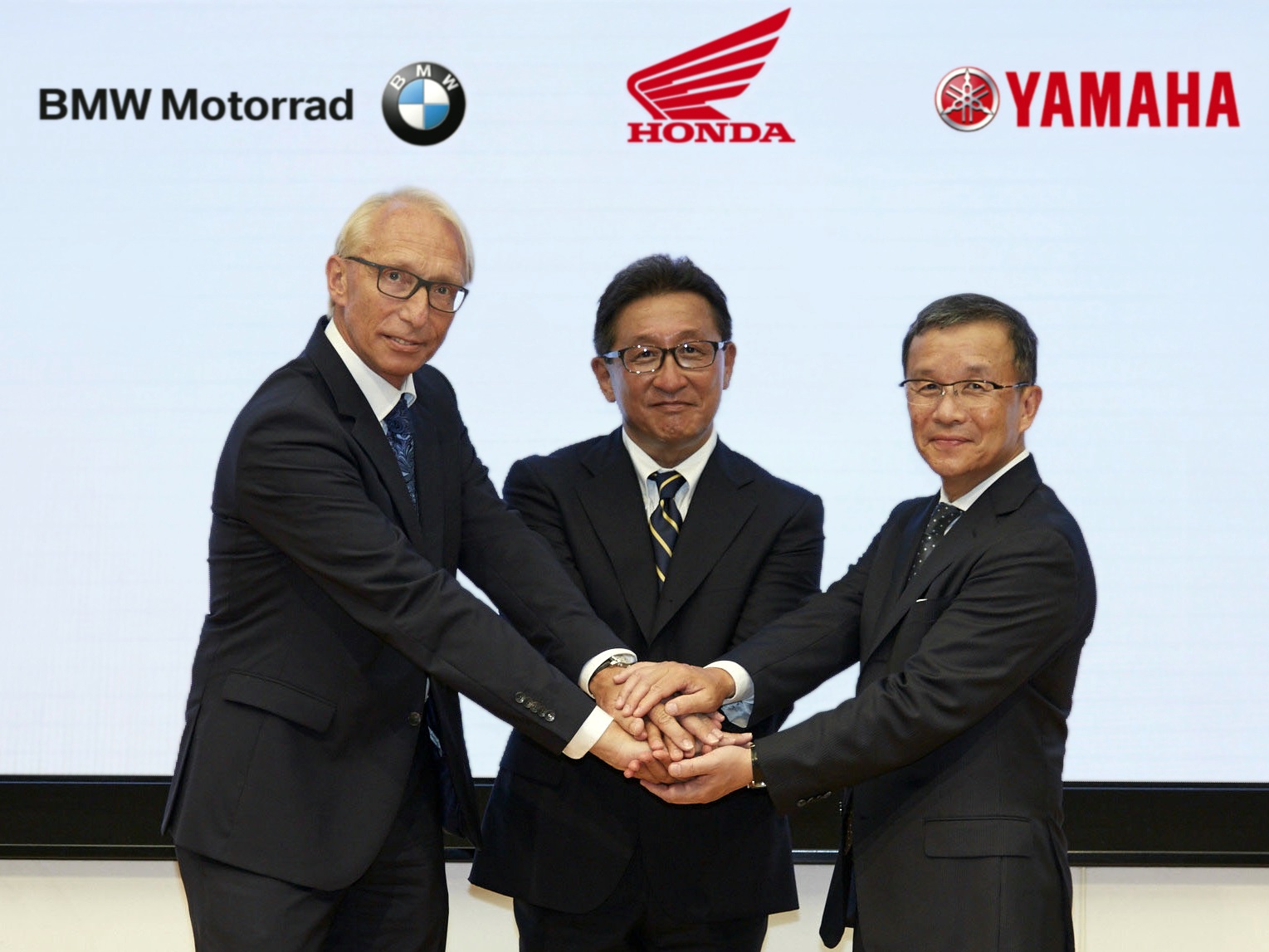 There has been a great deal of research and development in the direction of connected and autonomous vehicles and technologies related to it in the past couple of years. Many manufacturers including Google have been involved actively in making intelligent driving systems a reality. But, the development was focused mainly on four-wheelers until now.
BMW, Honda and Yamaha just went ahead and took the first step and announced their collaboration to develop Cooperative Intelligent Transport System (C-ITS) for motorcycles. Just earlier this year we had Honda "April-fooling" about an autonomous motorcycle riding robot and before that, on a much serious note, last year Google had begun paving way for autonomous two-wheelers by requesting the State of California to do away with legal restrictions for the same. From this news, seems like Honda was not just having fun.
The companies will be working together by establishing a consortium called Connected Motorcycle Consortium (CMC) and the aim of the consortium would be to have C-ITS (Cooperative Intelligent Transport System) enabled motorcycles by 2020. This new cooperation was announced at the ITS World Congress in Bordeaux (France) on October 6th, 2015. They are also encouraging other motorcycle manufacturers to become a part of the consortium as an effort to standardize the C-ITS protocols across the motorcycle industry.
Mr. Tetsuo Suzuki, Operating Officer at Honda Motor Company says that they need to collaborate in order to speed up such motorcycle-specific safety developments and promote C-ITS implementations in motorcycles and scooters.
Chief General Manager of Technology Center and Executive Vice President of Yamaha Motor Company, Mr. Takaai Kimura said that being a part of the Car2Car Communication Consortium, they came to realize that the specific requirements of motorcycles are beyond the scope of this consortium, and naturally the next logical step was to enter into a cooperation dedicated solely to the challenges relating to powered two-wheelers (PTW).
The Secretary General of ACEM (European Motorcycle Manufacturer Association), Antonio Perlot also agreed that this initiative is completely in line with the ACEM road safety strategy and shows that this showed the willingness of the motorcycle industry to increase safety for riders based on very concrete and practical developments.
The three companies have been already part of connected vehicle technology in several European field tests such as simTD and DRIVE C2X. The challenges experienced during these real world tests would be used to evaluate the principles of C-ITS (Cooperative Intelligent Transport System) to enhance motorcycle safety.
C-ITS for motorcycles cannot be easily transferred from cars as the available space on a motorcycle will be limited and the hardware must be smaller and much more resilient to environmental factors. Also, mainly, since motorcycle driving dynamics are very different compared to four-wheelers, software development and algorithms need to consider the special requirements.
The possibilities with such autonomous systems are endless and very powerful. But, the important question would be whether such systems would be really safe and what level vehicle control these systems could ultimately achieve. Well, there are always pro's and con's in every new technology and only time can tell what is in store ahead with the autonomous systems.