Is the new RSV4 RF really as good as Aprilia claims?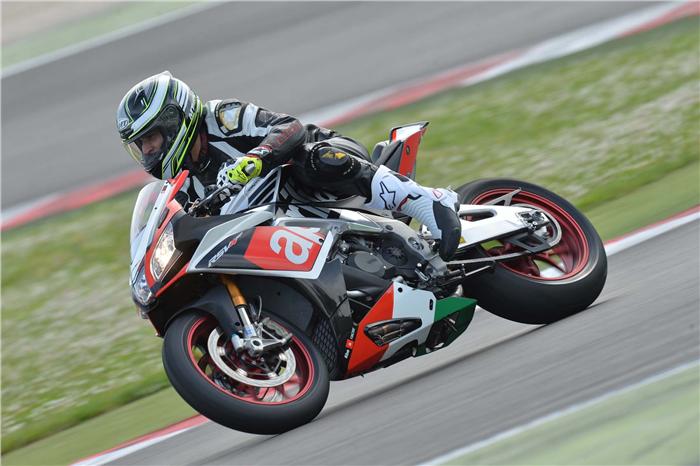 The RSV4 is Aprilia's flagship supersports bike. No newcomer to this hotly contested segment, the RSV4 has a global following and with multiple World SBK racing championship victories under its belt. Aprilia has now improved the RSV4 with a raft of engine improvements boosting the power output to further enhance this track focused bike.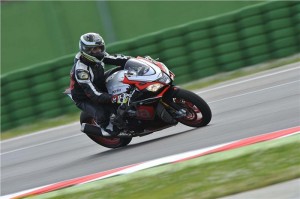 Italian bikes always hold a styling edge, with an inimitable, striking persona and the RSV4 RF delivers. There's exceptional attention-to-detail and an overall air of quality. Each RF comes with its individual number stamped on the steering brace. Bold graphics breathe enthusiasm into the RSV4 RF fairing. Our test RSV4 RF came with a smart-phone dock, which allows the bike to tap into your phone for location coordinates.
All rider controls on the Aprilla RSV4 RF feel comfortable and well thought out, with nice grips, switches and smart, offset instruments. The instruments cluster includes an analogue rpm gauge reading up to 15,000rpm. The RSV4 RF's three ride modes, Track Sport and Race all offer full engine power. The RSV4 engine displaces 999.6cc, a V4 putting out 198.5bhp.
Aprilia gave us ample time on the RF, in four 20 minute sessions. I spent the first 20min gingerly exploring the RSV4 RF's fierce performance and an unfamiliar circuit. The second on-track session felt more comfortable, the RF's comprehensive electronics coaxing me along, their invisible helping hands allowing me to use more and more of the motorcycles unending power.
Misano is a track bikers are bound to fall in love with,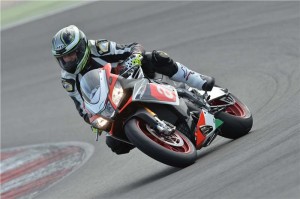 most corners relatively slow with double apexes, except for one really exciting high speed right hand corner—Curvone—that rushes into you at well over 200kph on a bike this fast. It took me 20 odd laps, maybe more to gather enough courage to go through banked over in fourth, and a few more before I managed to hook fifth through Curvone, nowhere near hard on the gas but entering this challenging, exhilarating sector at a true 210kph. The RSV4 RF's liquid-cooled engine is a treat to have by your side at a track day.
Words struggle to describe just how far the Aprilia's advanced electronics helped a track novice like me on this ride. The package includes launch assist, traction control and wheely control. That's apart from the engine map management and advanced 'race ABS' brakes with rear wheel lift protection. Much of the electronics can be tailored corner-to-corner, around the basic settings manually locked in.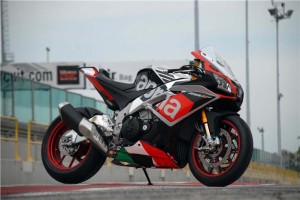 Wheely control at 3 and traction at 5 was where the electronics lifted far more effort off my mind. The RSV4 RF also has a quick-shifter, promoting perfect, lightning quick up-shifts through the six-speed transmission, without any throttle closure or clutch. A slipper clutch allowed us stress free hard braking.
The RSV4 RF is born with solid lineage, so Aprilia's only made minor revisions to optimize their proven chassis, built around a twin spar, adjustable frame and beefy looking, double braced alluminium swingarm. Center of gravity is lower, the swingarm longer and trail reduced. There's adjustable top-of-the-line Ohlins USD front forks, the steering braced by an adjustable Ohlins damper and an Ohlins racing monoshock below.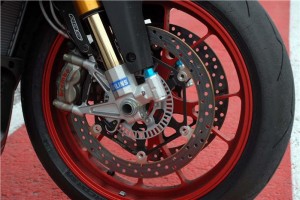 The brutal stopping power generated by the RSV4 RF's powerful brakes had my wrists aching from all the hard braking, with sustained braking into corners from 200kph plus. I can't remember really using the rear brake even once, such was the assurance encouraged by the front. The RSV4 RF comes together as a great handling package, everything working flawlessly, strongly supported by the electronics. The RSV4 RF has excellent stability at high speeds, steers into corners fast or slow with a stable, yet sharp and accurate enough feel.
The RSV4 can be booked for Rs 19.04 to 20.77 lakh (ex-showroom, Pune).
Fact File
Engine
| | |
| --- | --- |
| Type | 999.6cc, V-four, liquid-cooled, four-stroke |
| Power | 198.5bhp at 13000rpm |
| Torque | 11.7kgm at 10500rpm |
| Power to weight | 997.5bhp per tonne |
Transmission
| | |
| --- | --- |
| Gearbox | 6-speed, 1-down, 5-up |
Dimensions
| | |
| --- | --- |
| Length | 2040mm |
| Width | 735mm |
| Height | 1120mm |
| Wheel base | 1435mm |
Chassis & Body
| | |
| --- | --- |
| Weight | 199kg (dry) |
| Wheels | 10-spoke alloy |
| Tyres | 120/70 x 17- 200/55 x 17 inches |
Suspension
| | |
| --- | --- |
| Front | USD telescopic forks |
| Rear | Monoshock, alloy swingarm |
Brakes
| | |
| --- | --- |
| Front | 320mm discs |
| Rear | 220mm disc |
| Anti-lock | Yes |
Economy
Source Autocar India