A small engine in a large car. Can the XJ pull it off?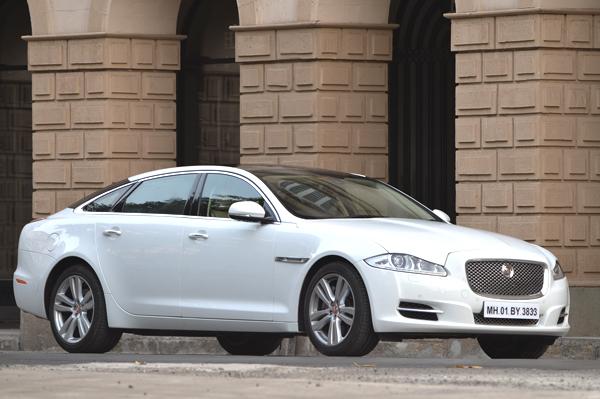 What is it?
Though petrol cars may be making a comeback in the Indian market, the luxury car segments are still heavily biased towards diesel. However, for the most perceptive of luxury car buyers, there's just no substitute for the refinement and smoothness of a petrol motor, and that's why in this rung of big limousines, every contender comes with at least one petrol engine option. However, while BMW, Audi and Mercedes offer up flagship petrol cars with motors larger than their diesel counterparts (the 7-series comes with six, eight and 12-cylinder petrol engines, for example), Jaguar has decided to go the opposite direction and offer a four-cylinder petrol motor to sit at the base of its range. You might have baulked at this idea in the past, but the numbers reveal that you won't be so badly off. The 1,999cc, direct-injection, turbocharged motor, that also features in the XF and the upcoming XE,  produces a respectable 237bhp and 35kgm, and at 2,265kg, the car weighs a full 185kg less than its V6 diesel sibling. What's more, Jaguar only offers the 2.0-litre petrol motor in the fully loaded Portfolio spec with all the bells and whistles, so you won't feel shortchanged on that front either. The company's idea, then, is to offer a proper luxury experience, with the refinement of a petrol engine and lower running costs than you'd get with a V6, V8 or V12 – doesn't sound too bad, right?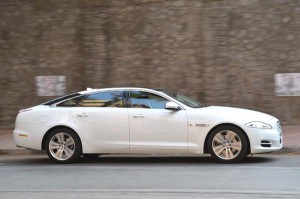 This being the Portfolio variant, the car comes with all the luxury trimmings you'd ever need. All four seats are heated, cooled, massaging and recline electrically (you can accommodate a fifth passenger by flipping up the rear armrest), there's a superb Meridian hi-fi audio system, a pair of screens and sturdy fold-out tables at the rear, a digital instrument cluster and touchscreen at the front, four-zone climate control, a TV tuner and dual sunroofs. The seats are some of the best in the segment, with sofa-like cushioning and a wide range of adjustment. And of course, this is still one of the most striking looking cars on sale full stop, let alone compared to its peers. There's a lot to like here.
What's it like to drive?
In a nutshell, even in everyday usage, you will feel the squeeze of Jaguar's downsizing efforts. Sure, the engine performs just fine in slow moving traffic. Even holding moderate speeds steadily is not a problem, as long as you feed in the power gradually. However, the moment you ask for an abrupt change in velocity, even if only to slip into a gap in traffic, is when you'll feel a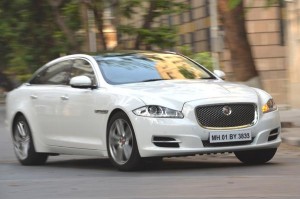 little underwhelmed. There's a fair bit of lag, and the hit of power it serves up after a kickdown is just not as potent as you'd get from a six-cylinder engine, and this is not something you want in a big luxury car. This only gets worse at higher speeds, and should you want to overtake that 18-wheeler on the expressway, the 2.0-litre motor won't do it as smoothly as a bigger engine, and will feel and sound a lot more strained in the process. Speaking of which, though the engine is very refined at low revs, and not very vocal when you wring it out, there's a bit of a buzz at higher rpms, which is not a sound you want to hear from your Rs 1 crore limousine. Simply put, it is not as smooth as a six or eight-cylinder engine. The ZF-sourced eight-speed automatic gearbox, on the other hand, is brilliant as always with its quick, intuitive and completely unobtrusive gear shifts.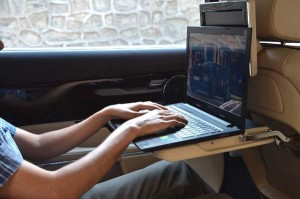 Apart from that, it's similar to the diesel XJ. The ride is very pliant and comfortable, though there's a bit of firmness over sharper bumps, but that's only when you compare it to some of its sublime peers, like the Mercedes-Benz S-class. There's a Dynamic mode that tightens up the air suspension (though never to the point of discomfort) and, bizarrely, lightens the steering rather than firming it up. All in all, for all its comfort, this is still a very engaging car from behind the wheel, one that belies its huge dimensions with its agility.
 Should I buy one?
The XJ is one of the oldest cars in this segment and the signs are not hard to see. The screens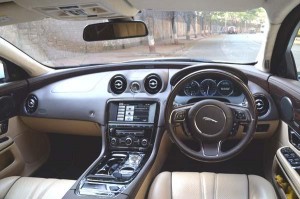 aren't of a very high resolution, the infotainment system feels clunky and dated, and some of the controls in the cabin feel a little mediocre by today's standards. What it has in spades, however, is proper old-school British luxury with a bucket-load of charm thrown in as well. It's a very desirable car with a lot of emotional appeal. What lets that appeal down is this motor. Yes, most chauffeur-driven owners, won't see this as a concern – let the driver deal with the weaker responses and turbo lag. True as that may be, it simply feels like a compromise that you don't need to make, and that's because of the excellent V6 diesel alternative. Not only is it more effortless and more efficient than the petrol, it's not too bad on refinement either. And though, at Rs 97.73 lakh (ex-showroom, Delhi), the Portfolio petrol costs over Rs 6 lakh less than the Portfolio diesel, you can sacrifice a bit of equipment and get the same diesel engine in 'Premium Luxury' trim for Rs 1.17 lakh less than the petrol. All things considered, we'd say the XJ 2.0 petrol could work for you, but we have a hard time recommending it over its superb diesel sibling.
Source Autocar India