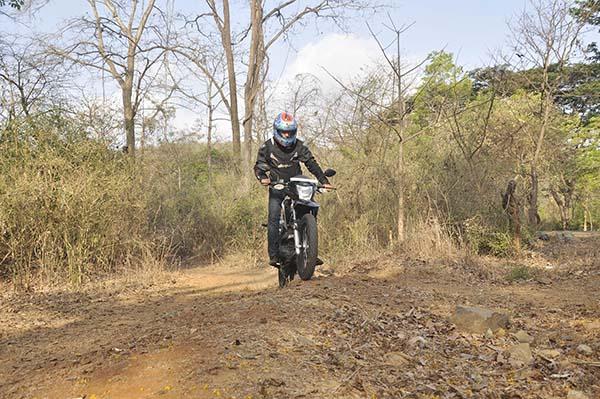 Existing Hero Impulse users will agree when we say on-off road motorbikes are assets to daily travelling in India, offering hassle-free riding that can even turn a bad day around. All this while doing what no other motorcycle in the segment can – rolling over potholes and bad patches of road seamlessly. The Impulse also adds to this by being slim and easy to move around, and being able to fit into narrow parking spaces.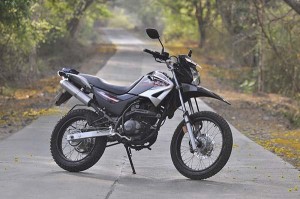 The bike's 149.2cc engine has always felt a bit underpowered, and only just ample to keep you moving at a fair enough clip. Riders often question if and when Hero MotoCorp will update its bike with a higher capacity powerplant?
In that light, Chinmay Bafna, proprietor of Fortpoint Hero with the help of his workshop in-charge Kobad Buchia have recently equipped a regular Hero Impulse with a refurbished 223cc engine from the Karizma. Visually, the 223cc bike looks almost identical to the factory motorcycle, apart from a new, well-fabricated, cylindrical exhaust in brushed finish steel. It also has a larger, blacked out engine in a double cradle frame.
The exhaust itself doesn't emit excess heat and is placed far enough from the pillion. Another adjustment here is the headlight unit, which is now directly connected to the battery, offering flicker free illumination at night.
A light thumb start ignites the 223cc motor, firing up this time to a throaty beat, from a free-flow exhaust. What straight away caught my attention was how calmly the bike sprints through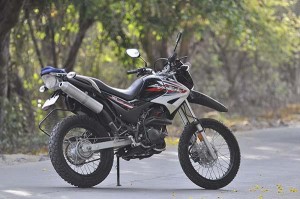 traffic, thanks to the almost instant delivery of torque, 2kgm delivered at 6,000rpm. The 223cc engine on the Impulse now gives it better initial response, and a healthy mid-range with decent top-end power delivery.
Clutch action feels a bit heavier than idyllic, but operates smoothly enough. The engine swap on the Impulse requires no major fabrication and Fortpoint even offers a one year warranty for the bike. Due to the heavier 223cc engine, ride and handling have changed a fair bit from the regular Impulse. The motorcycle tips forward a bit more now. Upon measuring, with a rider astride, the modified Impulse's front suspension sits a little more compressed, by a fourth of an inch compared to a regular Impulse.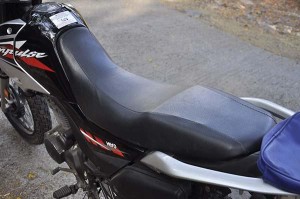 The bike still absorbs potholes and undulations well enough, but not as comfortably as a stock Impulse. Front and rear suspensions feel a bit stiffer. Still, nothing that would send a shock up the spine as the setup itself has enough play to absorb.
On the shortcoming, there's a lot more vibrations at the handlebars once closing in on 90kph, which has been a worry on all larger engine equipped Impulses we've tried to date, this intruding on riding pleasure and the single largest dampener of the package. However, looking up, an indicated 100kph feels brisker, the bike clocking an indicated top speed of 110kph as well, which is just not possible astride a regular Hero Impulse. This newfound quick sprinting capability makes the larger hearted Impulse that much more addictive once on the go.
The grippy CEAT tyres upfront and at the back provide enough grip to hold steady on tarmac,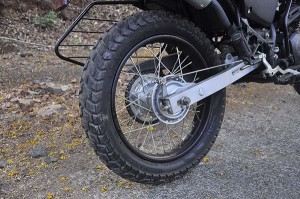 lock tiles and cemented roads, and never giving us a chance to complain. We even took the bike off the road, and just like the regular bike, this one also feels an eager off-roader, only complemented with some more power, always a good thing. The weight difference is negligible, and was never a bother.
The 223cc Impulse does trade-in a bit of its plush ride quality on the road, only to make way for a punchier performing engine that makes you want to ride the motorcycle more. Those looking to sacrifice a small share of comfort and gain extra excitement on their Impulse should definitely go for the engine-swap treatment.
It's not cheap however, for Chinmoy and Kobad can swap the regular engine in your Hero Impulse for Rs 40,000, the transition taking them no more than two days to complete.
 Source Autocar India