The AS 150 and 200 are Bajaj's offering in the adventure bike category.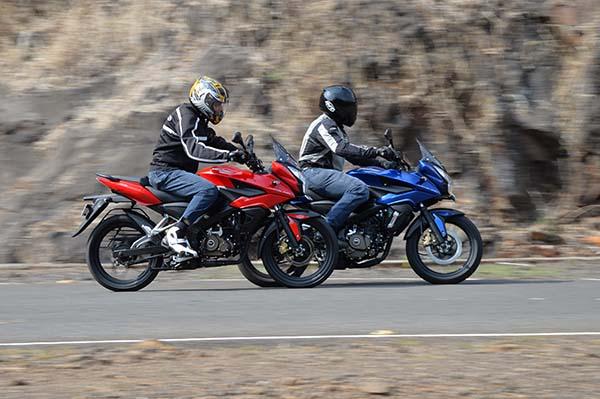 The Adventure Sport is the latest range of Pulsar bikes from Bajaj with both the AS 150 and 200, coming neatly styled with front quarter fairings, that extend sleekly back into tall, clear visors, that provide nice wind blast protection. Both bikes are outfitted with potent projector headlamps, and there's deeply grooved, Pulsar- typical fuel tanks, which provide a snug thigh grip when attacking the corners.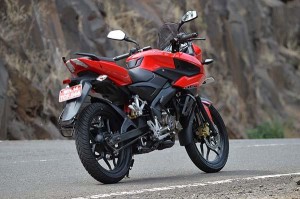 Several lightweight alloy parts are offered on both new AS bikes, including graceful, slim-spoke rims, rider as well as pillion footrests and the sub-frame units that support these. The Pulsar AS bikes feature backlit switches that work well, and familiar controls all of which are nice enough, such as the levers, grips and mirrors.
The new Bajaj Pulsar AS range offers comfortable split saddles for rider and pillion, with both new motorcycles looking well balanced, and smartly turned out. While their front fascias are new, you'd easily recognise both bikes as Pulsars, when looking at them from anywhere behind their fuel tanks.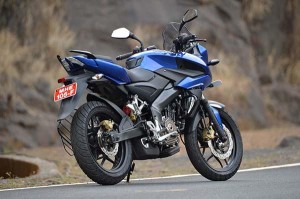 The AS 150 and 200 come with new-generation, four-stroke, single-cylinder and multi-plug (two for the smaller engine and three for the 200), four-valve engines that displace 149.5cc and 199.5cc respectively. Both are fed by CV carburettors with the major distinction being that the smaller AS 150 is air-cooled, whereas the larger AS 200 is liquid-cooled.  The 16.8bhp and 23.2bhp peak outputs of both bikes are at an identical 9,500rpm. The AS 150 engine is all-new, feeling far smoother than any earlier Pulsar 150. It's clearly peppier too now, but has done away with the older bikes typical engine snarl, replacing it with a more refined, mellower note. The 200 has a throatier engine note, and lacks refinement compared to its sibling, but nothing you'd be bothered by. As expected, the AS 200 offers far quicker performance through a wide powerband.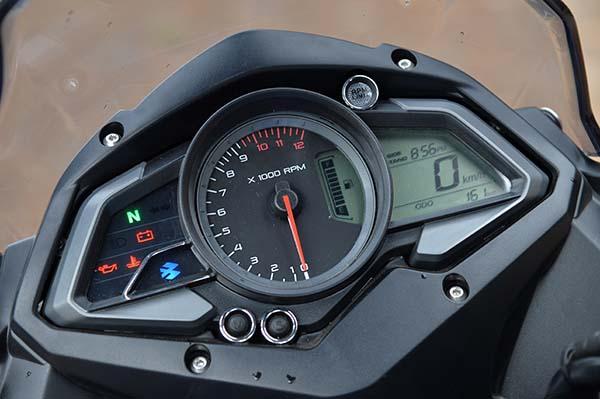 The AS 150 uses a five-speed gearbox while the 200 comes with six-speeds, both shifting smoothly throughout our brief ride in one-down, all-up patterns. The AS 200 engine, if you've already ridden its cousin the Pulsar 200NS, feels very similar in terms of performance and feel.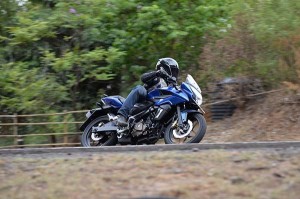 Steel-fabricated perimeter frames are used for both new Pulsar bikes, a major upgrade from the older generation, which Bajaj is to continue selling for the moment. Telescopic front suspension is in place, fatter diameter on the AS 200, with monoshock setups at the rear of both AS Pulsars. There are petal rotor-equipped front disc brakes on both bikes with a disc brake granted at rear for the bigger bike and a drum on the smaller bike. ABS isn't offered with either of the two new Pulsars. 17-inch wheels are standard.
The Pulsar AS 150 and AS 200 come with a comfortable, rider-friendly upright riding position,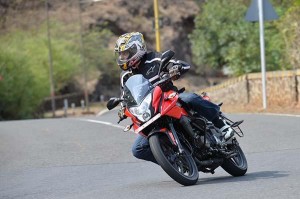 and handling is lenient, with a stable, relaxed feedback always reaching up to you through the handlebars. Ride quality is good, plush and ever-ready to nicely soak up mid-corner road undulations. Bajaj gave us the AS 150 with MRF tyres front and rear, which worked like a treat, offering good grip and feedback even when cranked over at silly lean angles. However, we can't say the same for the Eurogrip rubber on the AS 200, which didn't provide quite the same fulfilling confidence levels.
The Pulsars AS 150 and 200 may be underwhelming for riders who hoped for a true adventure-bike feel, lacking in terms of taller stance and really long stroke suspension, with extra plush ride quality that comes with that. The company, however, says that these bikes are just its very first steps towards a proper entry into that segment, with adventure bike styling explored.
| | | |
| --- | --- | --- |
| Specifications | AS 150 | AS 200 |
| Price | Rs.79,000 (ex-showroom,Delhi) | Rs.91,550 (ex-showroom, Delhi) |
| On Sale | Now | Now |
| L/W/H | 2070/804/1205 | 2070/804/1205 |
| Wheelbase | 1363mm | 1363mm |
| Fuel Tank Capacity | 12 litres | 12 litres |
| Kerb Weight | 143kg | 153kg |
| Engine Layout | Four-stroke, single cylinder, air-cooled | Four-stroke, single cylinder, air-cooled |
| Displacement | 149.5cc | 199.5cc |
| Power | 16.8bhp at 9500rpm | 23.2bhp at 9500rpm |
| Torque | 1.3kgm at 7000rpm | 1.9kgm at 8000rpm |
| Specific Output | 112.4bhp per litre | 116.3bhp per litre |
| Power to weight | 117.5bhp per tonne | 151.6bhp per tonne |
| Gearbox | 5-speed, 1-down, 4-up | 6-speed, 1-down, 5-up |
| Front suspension | Telescopic forks | Telescopic forks |
| Rear suspension | Monoshock, box section swingarm | Monoshock, box-section swingarm |
| Front brake | 240mm disk | 280mm disc |
| Rear brake | 130mm drum | 230mm disc |
| Wheels | 10-spoke | 10-spoke |
| Rim size | 17-inches | 17-inches |
| Tyre size | 80/100 x 17 – 110/80 x 17inches | 100/80 x 17 – 130/70 x 17inches |
Source Autocar India