Does the car offer more than just cosmetic changes?
What is it?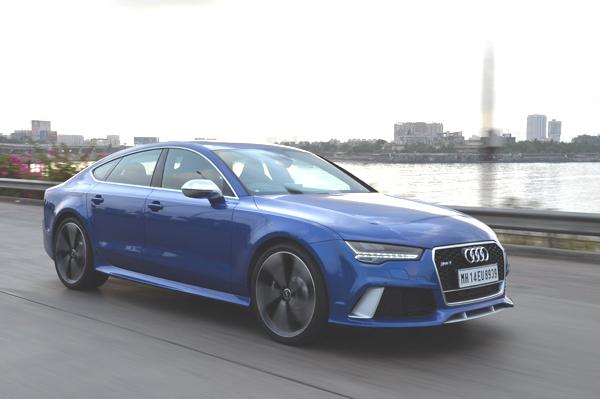 The first thing you will notice the freshly launched facelifted Audi RS7 Sportback are those sexy, slimmed down new headlights. Like before, they're full LED units, but with the added option of the 'Matrix' system we saw in the A8. What that means is a slick new Y-shaped pattern for the running lamps and an adaptive system whereby each of the diodes within the lamp can operate autonomously, lighting up exactly what you need to see and preventing oncoming traffic from being blinded. It's all incredibly clever and most will love it for how intimidating it makes the new RS7 look. It's a similar story with the new smoked black LED tail-lamps, and the indicators that now swipe in the direction you are turning.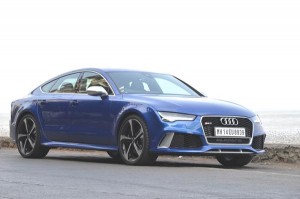 Its not like the RS7 was ever lacking in the visual department. The graceful Sportback shape is one of the most attractive around, and then there are the RS extras – wide, sharp-edged bumpers, massive intakes, black honeycomb grille (wider than before), substantial oval tailpipes and flared wheel arches. In addition there's the optional 21-inch wheels (similar design as before, but now finished in two-tone gloss paint), the hunkered-down stance and the stunning shade of blue that this car is wearing. While luxury super-sedans often intentionally look a bit restrained, this is not one of them.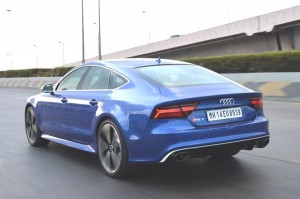 The cabin is still a wonderfully luxurious place for four – save for that slightly low and narrow rear cabin – but here too, Audi has added a number of subtle things that you notice over time. An example of this is that each seat is lit up individually by an overhead lamp as you open the corresponding door. The MMI system gets an updated operating system that has a few improvements. It can now play video files (though only when the car's stationary), it's much easier to browse through your music and, for the first time in recent memory, Audi has provided two USB ports in the centre bin – no more silly 'accessory cable' required. There's also a better colour screen between the dials now.
What's it like to drive?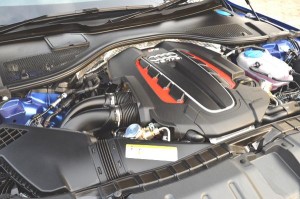 The RS7 is limited by default to a top speed of 250kph, and you can have that raised to 280kph or an outrageous 305kph with a performance pack. Since exercising these limits would require the main straight of the Buddh International Circuit, let's focus on what it's like in everyday conditions. The facelift gets the same brutal 4.0-litre, twin-turbo, direct-injection V8 that pumps out 553bhp and 71.38kgm and is capable of hauling the two tonnes Audi to 100kph in just 3.9 seconds. The power delivery is delightfully urgent for a turbocharged engine, at least in Dynamic mode – there's barely a hint of indecision before it launches you at the horizon. This is partly down to the quick-shifting ZF eight-speed gearbox.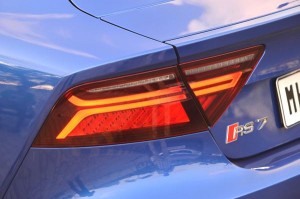 In fact, it's this gearbox that sets the tone for the RS7's dual, luxury-sportscar personality. While most performance cars have moved over to dual-clutch setups (Audi's own R8 included), this car sticks with a good old fashioned, eight-speed torque converter that's related to the one in the A8 limo. So, while it's quick to react and swap cogs (it only starts to falter slightly when you're really hammering it), it's perfectly civilised in Comfort mode. The same can be said for the ride, despite those optional 21-inch wheels and low-profile tyres (never thought we'd recommend 20-inch wheels as the sensible option). Yes, it's firm and a little edgy over bumps, especially in Dynamic, but far from what you'd call uncomfortable.
The engine too, in Dynamic with the gearbox in 'S', likes to keep the revs high for the best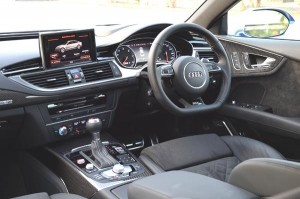 responses, but here too, it's not as if it's undriveable at low speeds. Of course, the correct thing to do at low speeds is use Comfort mode, in which case it's out-and-out docile at part throttle. And with the combination of engine stop-start and cylinder deactivation, you could probably manage some pretty conservative fuel economy figures – provided you're very gentle with the throttle.
The dynamics too stay unchanged. The steering still feels a bit too numb for the kind of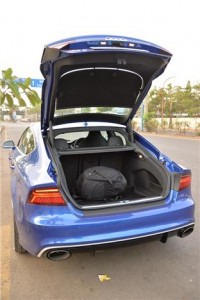 performance it has to harness, but the turn-in is quite direct and the long nose goes where you want it to the wide tyres and Quattro all-wheel drive system provide excellent levels of grip and you'd have to be quite reckless with the throttle to unsettle it in a corner – it's not impossible though. All in all, you'll be happier for the feeling of security the all-wheel-drive system offers when you want to drive quickly on regular roads.
Should I buy one?
Yes. While Rs 1.4 crore (ex-showroom Delhi) may sound like a lot, remember, it's only around Rs 4 lakh more than what the pre-facelift car cost when it was last on sale – not a huge amount in this rarefied end of the luxury sedan market, particularly when some rivals cost a fair bit more. The additions made with the update may not be substantial, but what they contribute to the wow factor and, in some cases, user-friendliness, is well worth it. The point of these super sedans is to combine all the luxury, usability and comfort you expect with all the mental performance you crave, and the RS7 walks that fine line so deftly. One of the best in the segment has only got a little better.
Source Autocar India