The armoured S-class is added to the company existing armoured cars.
The S 600 Guard has been launched t a price of Rs 8.9 crore (ex-showroom, Delhi). The armoured version of the S-class offers high levels of security alongside the luxuries of the standard car.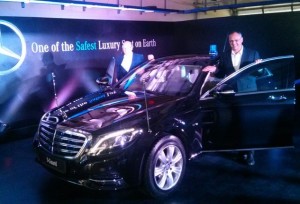 The car has been rated at VR-9 level ballistic protection as per the BRV 2009 meaning that the armour hidden within the car's body capable of stopping 7.62x51mm rifle rounds on multiple areas of the body from various angles. The car also gets an automatic fire suppression system and an emergency fresh air system in case of ingress of smoke, and hydraulic-actuated side windows to open the heavy layered laminated glass windows.
To move all this weight the car gets a 6.0-litre V12 pumping out 530bhp and 84.63kgm of torque mated to a seven speed automatic transmission. The suspension of the car has also been beefed up to manage all the weight. Top speed is restricted to 210kph.
Source Autocar India