Bangalore is one of the most preferred destinations among corporates to start off corporate offices in India. There are a large number of global IT companies in the city and their numbers are burgeoning every year. The pleasurable weather, lifestyles which are comparable to global ones and improvement in connectivity of the infrastructure has made Bangalore a heaven to new homeowners. Most people moving to the city to work decide to stay back and buy properties. Every year, a large number of people move to the city that needs rental properties as well. This has led to a rapid growth of the real estate sector. Bangalore is rearing quite a few developers and builders to come up with newer projects. Some of the prominent developers of the city include the Salarpuria Group and the Prestige Group.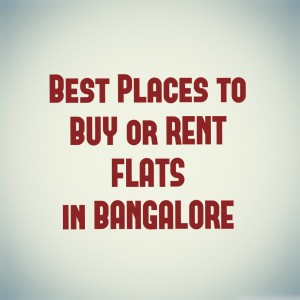 The types of properties available in Bangalore to buyers who would like to purchase property in the city are vast. Buyers can choose from 1BHK apartments to independent luxury villas and independent row houses. Choosing a location where you would like to buy property in Bangalore may be a tough call as you have to pick a property which suits your requirements and your budget as well. The cost of a housing property in Bangalore depends mostly on the kind of property and its location. If you want to live in older and central areas of Bangalore, you may have to spend a lot as these areas have good connectivity via public transport and social fabric. If you are willing to stay by the outskirts, then you have nothing to worry about as properties are much cheaper than what they cost within the city's boundary.
The actual city of Bangalore is actually quite a small one, located on a plateau. When you visit areas such as Wilson Garden, you would find the roads sloping downward and quite narrow. Areas outside the traditional boundaries of Bangalore were developed during the 1990s when the Karnataka State Government took the initiative of inviting IT companies into the city. Bangalore has quite a few home grown IT companies such as Infosys and Wipro which set up shop around the 1980s. With better infrastructure and SEZs and tax concessions, more companies were inclined to start up offices in the city. Computer schools, engineering institutes and other educational concerns which impart technical skills were set up which increased the employability of Bangaloreans. Soon, other people from different parts of India migrated to the city and a cosmopolitan culture was developed. Now, not only are IT companies the zones of employment but several hotels and restaurants and e-commerce companies also serve to employ people.
Bangalore is developing in a radial pattern and its limits are expanding every year. Bangalore is one of the few Indian cities which actually have a walk-to-work culture. Every centre of employment in Bangalore has a residential micro-market around it where employees of these companies rent cheap accommodation. These neighbourhoods are self-sufficient as they have grocery and convenience stores and other amenities within walking distance.
The areas in Bangalore which enjoy a lot of popularity among renters and buyers are MG Road, Cunningham Street and Brigade Road. They are mainly important for their commercial establishments and finding an affordable house in these areas is quite difficult. Earlier IT companies were housed in these regions but with the development of the outskirts, these companies moved out and law firms and other businesses took over these properties. Aside from these much sought after areas, there are quite a few other residential localities such as villas of Whitefield, Sadashiv Nagar located off Palace Road and Cunningham Road respectively are known to be boulevards of the rich.
Here is a comprehensive list of well-planned and stylish residential areas of Bangalore which not only enjoy good connectivity but can be purchased within a limited budget.
Indira Nagar- The neighbourhood is a couple of kilometres away from the airport in Domlur and enjoys good connectivity with the rest of Bangalore. There are quite a few specialty hospitals, colleges and educational institutes here. The options of shopping nearby are numerous and so are the bars, pubs, gyms and restaurants. Despite being a well-connected and developed area, it can be termed to be an average budget one.
Koramangala- Renowned business houses and firms, educational institutions, shopping centres along with malls and the St. John's hospital are some of the facilities offered here. It is indeed a good locality to settle down in because it is near both central Bangalore and the far flung areas. Many roads criss-cross within Koramangala which lead to Indira Nagar. The area enjoys good connectivity and will definitely be a salaried family's delight.
Banshankari- The area is located only 15kms away from the railway station in Bangalore and is a medium budget one. The Kempegowda Airport is around 25kms from here. The main connecting road passing through Banshankari is 100 feet Ring Road. A number of newer projects are being developed here in recent times. Several of them are under development and nearing completion.
Jayanagar- This well developed housing area is located near Banshankari. It is a highly cosmopolitan locality. There are quite a few shopping complexes, restaurants such as Blue Lagoon, Taj Durbar and Mughal Durbar and a couple of educational institutions.
Malleshwaram- The area is one of the cleanest localities of Bangalore. It is quite beautiful thanks to the greenery all around. Malleshwaram has its own metro station and is located close to the Bangalore Railway Station at Yeshwantpur. It has the Orion Mall and hospitals such as Columbia Asia located nearby which would make lives of residents much simpler.
Marathahalli- Located near Sarjapur and Whitefield, the locality enjoys good connectivity and has many new projects on offer. Marathahalli has a lot of IT companies and is a good choice for people working in the IT companies. Because more salaried people rent and live around the place, it is a medium budget neighbourhood with much social fabric.
BTM Layout- This locality is situated near southern Bangalore and is home to IIM. The layout is a planned one, having sprung up from the renowned educational institution. The separate market places and road systems of the area are quite well-developed.
Madiwala- If you are looking for homes within a very limited budget then Madiwala may be a good option for you. It may be quite crowded and the locality's interiors aren't comparable to the areas which are located close by. However areas such as HSR Layout, Koramangla and BTM Layout are quite close by. Besides, long distance buses ply from Madiwala which would be of great help if you are a traveller.
HSR Layout- Marathahalli, Electronic City and Whitefield are connected well with this area and a lot of offices are within it. The locality is well connected to Bangalore's other areas and the good infrastructure makes it quite an expensive locality for fresher's job holders in Bangalore.
KR Puram- Krishna Raja Puram or KR Puram is another well connected area of the city. There are numerous apartments available in different budgets which would suit your needs.
Basavangdi- The renowned Bull temple is what puts this locality on the map. Bangalore's City Central Library makes it a mecca for book lovers. Those who love shopping would find the Gandhi Bazaar located a short distance away. The locality is well connected by RashtriyaVidyalaya Road, Krishna Rajendra Road and 4th Main road. It is around 25kms from Bangalore's airport and 12kms from the railway station in the city.
JP Nagar- Located along the Aurobinda Marg, it is right next to Jayanagar. The Ring Road goes by its periphery. It is one of the most sought after localities of Bangalore.
Cox Town- MadharajyaMuadaliar and Wheeler Road are the 2 main roads of this area. Coffee shops, restaurants, banks and houses dot the locality.
Frazer Town- One of the older parts of Bangalore, Frazer Town is high on infrastructure and connectivity. The numbers of colleges, hospitals and schools in the locality are comparable to that of Cox Town.
Ulsoor- TheUlsoor Lake located in this area lends the area its names. Some of the educational institutions located here include RBANMS First Grade College, Wigan Leigh College and RBANMS Pre-University College etc. The AnnaswamyMudaliar Road runs by the Ulsoor Lake. Dickenson Road and Kamaraj Road are some of the other important roads which connect Ulsoor to different parts of Bangalore. Ulsoor is considered to be one of the prime localities of central Bangalore and hence may be out of the reach of most people.
To find the best property for renting or buying in Bangalore which is near your office, you should log into an online classifieds website. You can find the best properties here within a variety of rates. You will be exempt from the high charges that brokers take for showing you a good property. Moreover, you can deal with the owner directly to find the ideal properties within your budget.