The city that is coming up as the centre of employment in India for urban and young talent is Bangalore. The levels of energy that the city exudes are surprising to most. Not only does Bangalore have a lot of happening joints for today's youngsters and millennial to chill out at but the city is also taking the reign of control to shape a global and new economy. The numbers of start-ups in the city is much more than others and the general ecosystem has given rise to a new brand of entrepreneurs.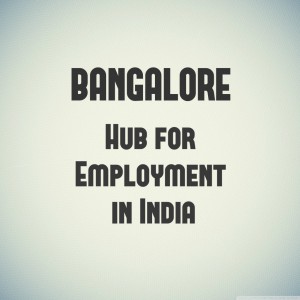 Much of the boom in e-commerce space and entrepreneurship in Bangalore can be attributed to the growth of the IT sector and its allied services. Processes such as engineering, automotive application and defense have also sprung up in the city, being boosted by the IT sector. The competition of acquiring good talent is not between companies anymore but it has shifted between cities. The cities which offer highly skilled talent become the ones that lead a global economy. Republic of China has actually illustrated how creation of integrated production network intended and manufacturing within areas help to dominate global production. Currently, there is no such provision in India but knowledge driven industries do not need you to deliver volumes of cargo in a timely manner. You need a place of operation which Bangalore gladly provides. Only a handful of other Indian cities such as Pune and Hyderabad have been as thoughtful as they remain entangled in blockages, under investment and bad governance.
Despite being a smaller pool of talent compared to Delhi or Mumbai, the IT industry is booming in Bangalore. Numerous MNCs have their centers for research and development set up in Bangalore. Samsung and GE are two of the most popular companies with their R&D centres in the city.
The availability of engineers in Bangalore goes back to the early 1990s when the IT industry was yet to boom. A lot of engineering institutes came up in the state around this time, which were criticized for lacking basic facilities. However, they offered jobs in Bangalore in the IT companies that were setting up shop here. Today, through a rigorous process of metamorphosis, these very institutes have turned out to be the best ones, offering quality educations and jobs in Bangalore with fat pay packages.
A lot of cities such as Pune and Hyderabad have tried to replicate Bangalore's model with limited success. However, Bangalore continues to offer an edge over them in two aspects, leaving aside the favorable climate. Bangaloreans may complain about poor quality of lives in the city and urban infrastructure, they still continue to stay on for the opportunities offered to them for advancing their career. Over Delhi and Mumbai, the advantages that Bangalore offers are ability of retaining and attracting younger professionals who are looking to become careerists or entrepreneurs. A factor which facilities this quality is the affordable property prices. Mumbai may continue to attract bright minds in terms of financial services and entertainment industry, a lot of people would prefer to be in Bangalore for the affordable costs. Bad infrastructure, especially given the high value of real estate and problems in commuting by publicly owned means of transportation deters both employees and employers of Mumbai.
In general, Bangalore is a cleaner city and its residential societies are safer and genteel. Bangalore is becoming an attractive destination for today's youngsters for the quality of jobs in Bangalore, avenues of nightlife and entertainment, safety and policy of non-interference. Most NRIs returning to India prefer to relocate to Bangalore because of the lifestyle offered by the city, akin to those in foreign countries. The southern city is slowly becoming a large center of commerce and activity, rivalling the clout of Delhi or Mumbai.
Another advantage that Bangalore offers over Delhi and Mumbai is the engagement of prominent citizens with the administration. They act as stakeholders in the growth of the city and its well-being. The involvement on the part of prominent residents is essential for their knowledge of the power structure of the city and knowledge of the city in itself. Narayana Murthy, NandanNilekani, K Jairaj and other power figures of Bangalore are actively involved in the well-being of the society. They hold memberships to different political action committees and task forces. The fact that the rich and famous of the city (and to some extent the world) are involved in these activities attracts investment from other quarters as well.
In other cities like Mumbai and Delhi, the best citizens hardly come on the same platform with the local political figures for the betterment of the city. Unless public pressure is felt, elected officials do not choose to act in the benefit of the citizens. The lack of this is being felt in Mumbai and Delhi, India's two most prominent cities.
Unless the citizens of a particular city act up and pressurize elected officials for a better tomorrow, it would be very difficult for the officials to come up with the best alternatives. Lastly, political clout must be minimized in different cities because they hinder efficiency and best motives of a city.
Most companies wanting to open a regional office or corporate office choose Bangalore as their first destination. The work culture in Bangalore is a pleasant one and obtaining business clearances is much easier compared to other cities. The walk to work culture developed from this city, where employees preferred staying close to their workplace rather than travel for hours to and from work. PGs and houses for rent are available in all localities to suit the convenience of employees of the IT sector. Keeping the IT sector in focus, a lot of allied services have come up in Bangalore such as hotels, taxis and transportation, restaurants and nightclubs. If you are not from the IT background, you can still get jobs in Bangalore in these services which pay quite handsomely.
Bangalore is definitely one of the emerging cities of India currently and it is poised to leave behind heavyweights like Mumbai and Delhi.