So you're on cloud nine after making it to one of the top universities in the U.S.A.
As you rush through all your goodbyes, you'll notice the large empty suitcases staring at you, waiting to be filled. Since you're going to be there for years at the very least, your packing can seem a truly herculean task.
Especially with a flight to country like America—where there are stringent regulations with respect to baggage weight and contents— it is crucial that you take extra care with packing.
However, don't let the burden of packing for USA flight steal away those last few precious moments with friends and family.
The moment you realise what to include (and what not to) in your leave-India-luggage-pack, that's half the battle won. Here, we've come up with a couple of guidelines to help you do just that.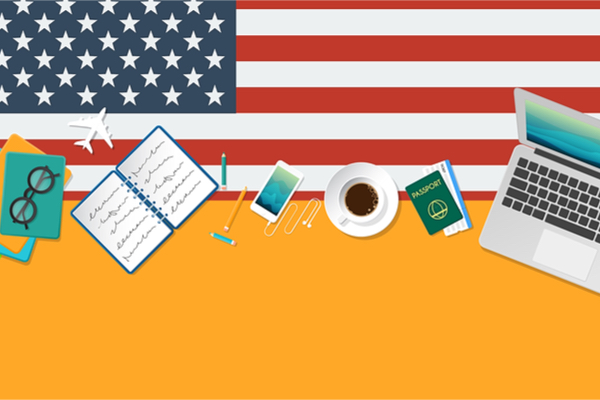 How To Pack When You're Leaving To Study In The US
Most of us are unaware of the level of scrutiny the contents of a bag are subjected to at the average U.S airport. This means that we sometimes end up over packing, thereby flouting strict weight restriction norms.
Take a look at the essentials you'll need to pack—and legal guidelines you'll need to follow—inside the country of America.
Healthcare
Things You'll Need To Buy In India
Buy the basic medication for the likes of fever, cough and other such common ailments. Your body has probably been reacting well to these medicines over the years, so it's a safe bet to carry them with you.
Things You Shouldn't Carry
Take a look at US laws concerning the matter, and don't carry medicines you need a prescription for, unless you have said prescription. Sounds pretty obvious, but you'd be surprised how often this is an issue.
Personal Care
Things You Need To Buy In India
Basic essentials like soaps, shampoos, wash detergent, combs, hair oil, toothpaste, and pins—just enough to get you through the first few weeks, or days.
Things You Shouldn't Carry
It wouldn't be wise to carry humongous quantities of ]toiletries; they are easily available all over the US at affordable rates. Don't be 'that guy/girl' and hoard a huge (unnecessary) set of toiletries, just because some uncle told you it was cheaper to buy in India!
Kitchen Essentials
Things You Need To Buy In India
You can carry all sorts of home-made desi curry and masala mixes, and a few bits of cutlery for the first few days.
Things You Shouldn't Carry
Appliances like electric cookers and ovens are a big no-no. First off, the power requirement (and plug points) are completely different from Those in India.
Also, you'd look really weird carrying a grinder into the airport!
Clothing
For Men
4 pairs of jeans, a few t-shirts and shirts, formal pants, leather jackets and other winter wear, shoes, wallet and belt. Note that leather is relatively expensive in the US, so it's wise to carry leather accessories from India.
For Women
8 pairs of jeans, t-shirts, sweaters, thermal wear, scarfs, ethnic wear (a saree or a salwar kameez dress), skirts, shawls and stoles. Because that's how we do!
Many of us might want to a large number clothes and accessories, but know that the US is home to a large number of Indians. In fact, finding an Indian store is known to be ridiculously easy here.
Baggage Allowance
Like we just talked about, baggage allowance  norms are pretty strict in flights to the US. You'd do well to get savvy about legal limitations on baggage weight.
No more than two suitcases weighing 23kgs each are allowed as 'check-in' luggage.
Apart from this, you can carry a maximum of 8kgs as 'çarry on'. Clue: this is where the precious laptop (that your folks bought you for graduation) would go.
Students possessing I-20 visas are permitted to carry 3 suitcases, instead of the usual 2, by a few airlines. If you're flying in one of these, make sure you avail this handy facility even if it means paying some extra money on your ticket.
Make sure you keep this handy info in mind, and you'll have considerably less trouble packing.